University digs deeper into retention initiative as probation rates increase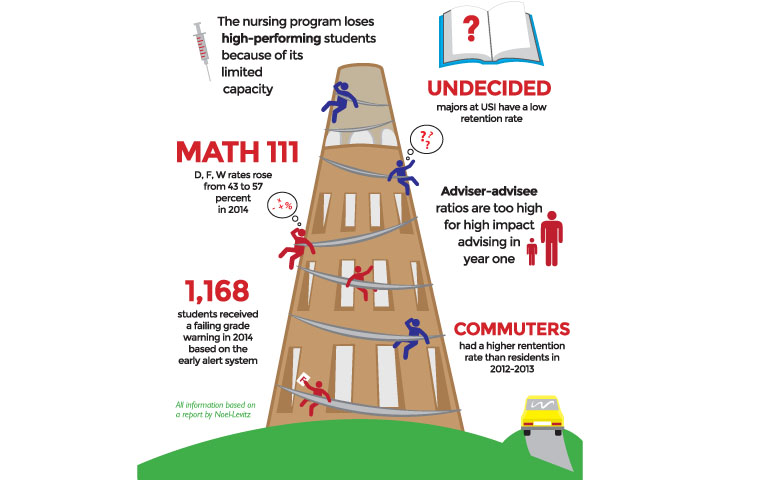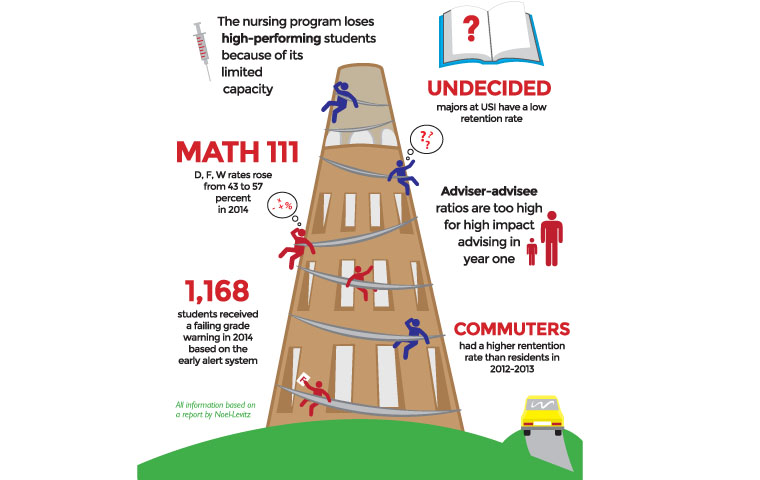 The university has identified a handful of priorities to focus on in 2015 to increase annual retention and progression rates.
A retention rate is the percentage of a school's first-time, first-year undergraduate students who continue at a school through the following year.
Through its partnership with Noel-Levitz, a higher education consulting firm, USI will look into ways of improving new student orientations and the UNIV 101 experience.
The university is also looking into ways to lower probation rates of first-semester freshmen and raise recovery rates, retention rates and progression rates of undecided students, as well as make USI a student-centered environment.
From Fall 2013 to Spring 2014, USI retained 89.9 percent of its first-time full-time baccalaureate degree seeking freshmen, but from Fall 2014 to Spring 2015, 88.1 percent were retained, which is a 1.8 percent decrease.
Despite the decline, this is still the second highest retention rate the university has seen in 10 years.
Executive Consultant for Noel-Levitz Claire Berardini has worked on the issue alongside the university since November 2013.
Prior to coming on board, she said the university had been collecting retention data solely for reporting purposes and that it would be beneficial to use the data more "dynamically."
She said the first priority revolves around the structure of new student orientations, which are seen as a "registration event."
"We want to use that orientation to help students start to feel a little bit more connected with USI as a campus, as a community," Berardini said. "Just getting more acclimated to a strange place."
The 2015 Summer Orientation will also focus on building a relationship between new and existing students.
Another focus will be the implementation of intentional parent programming.
"What happens a lot of time at orientation is we just try to keep the parents busy," she said. "We are talking about how to use that time when parents are available to do some programming that's going to help with our retention efforts."
Berardini said they will have programs that will be useful to parents, such as having them meet with a financial aid representative to help them understand processes like payment deadlines, FAFSA re-filing or the work study program.
"Instead of just giving parents written information on this, we will bring them together, talk with them in a way that meets them where they are in the process," she said.
UNIV 101 is a freshmen seminar course that is meant to help students manage the transition to college and take advantage of involvement opportunities on campus, Berardini said.
The course became a requirement for all freshmen with the implementation of Core 39 last year.
"In every college and university that I've worked for and with as a consultant, there's been a lot of differing opinions and points-of-view on a campus as to what should be covered in a course like UNIV 101," Berardini said.
USI is not unique in that regard.
"We are trying right now to really define what that course should be for all students," she said.
Berardini said it takes a heavy amount of conversation to work out the specifics of the course.
In 2014, the probation rate of freshmen at USI increased by 2 percent, which Berardini said was unexpected and not the direction the university wants to go.
To improve the recovery rate of freshmen on probation, 10 to 12 sections of a UNIV 091, an academic recovery seminar, have been planned for this semester, the content of which is still under development that will meet twice per week over a five-week period.
Math 111 (College Algebra) has impacted probation rates significantly by having a high D, F, W (withdrawl) percentage, Berardini said. Math 114 (Quantitive Reasoning) was implemented with Core 39 to descrease the percentage.
The Fall 2014 D, F, W rates for MATH 114 fell below 30 percent, but rose from 43 to 57 percent for MATH 111.
"Math is becoming one of the most troubling barriers in regard to student success in their first year," Berardini said.
Students majoring in nursing are high performing  because of the program's limited capacity.
"We may need to look at what students we are allowing into what majors," Berardini said during the Spring University Meeting.
Of all the majors, however, none impact retention rates as much as undecided students.
Undecided students make up the largest single major group and are retained at a low rate.
Berardini also said the university retains more commuters than on-campus students, which is a "problem."
Also initiated in Fall 2014 was an early alert program that asked instructors of 100 and 200 level classes to submit progress reports three weeks into the semester.
Sixty-six percent of faculty reportedly completed the early warning report as a result, which notified the student of a failing grade. According to a Noel-Levitz report, 1,168 students received a warning in one class and 792 received warnings in at least two classes.
The university not only hopes to improve retention rates, but progression rates as well.
Berardini said USI will also focus on increasing progression rates by looking at milestone courses and Academic Support Services.
Berardini and President Linda Bennett stressed the importance of USI becoming less discipline-based and more institutional-based during the Jan. 8 Board of Trustees Meeting in Indianapolis.
The university is not doing a good enough job of getting to students "while they are here (at USI)," Berardini said, and the university's institutional culture "needs to be shifted."
"We've got to get faculty to change the way they perceive the organizational structure (of USI)," she said.
These points merely scratch the surface of the depth of direction Berardini is addressing with the university in regard to retention and progression.
Bennett said USI is getting into complex ranges of issues and details that will help to change its culture.
"The satisfied student," Bennett said, "is not just about their academic success."