Performing arts chair sheds light on ancient gender roles in 'Lysistrata'
Taylor Fox
November 11, 2014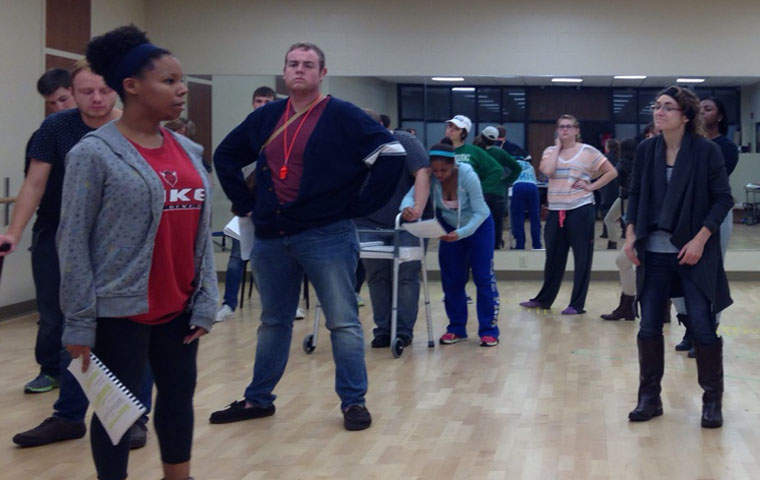 The audience can expect to see a group of clever actors in an improvisational play that is "funnier on its feet, than on paper," said Elliot Wasserman, Performing Arts Department chair.
Wasserman has been directing plays at USI since 1991 and said he looks forward to putting on a slapstick comedy with a serious message.
"Lysistrata" was adapted from the Ancient Greek playwright, Aristophanes. In the play, Lysistrata, the title character, along with all of the women of Ancient Greece, storm the Parthenon in Athens and barricade themselves in protest of the ongoing Peloponnesian War.
Their demand is simple: "End the fighting, or suffer the consequences."
Those consequences come in the form of denial – of bedroom services.
The play premeires at 7:30 p.m. Wednesday and is scheduled to start at the same time Nov. 20 through Nov. 22. Another showing is scheduled for 2 p.m. Nov. 23. All shows will take place in Mallette Studio Theatre.
"This play has great humor to offer," Wasserman said. "Sex has not ceased to be important for men and women and will forever be a source of comic interaction on stage."
Although the play is centered on men humorously trying to persuade their wives to come back home, a serious point is being made.
"What's interesting is Lysistrata doesn't argue that war is wrong. She's actually arguing that it is the wrong war to be fighting," Wasserman said. "There is an anti-war message in the play, but that is not the point"
Lysistrata argues that the Spartans and Athenians should be uniting over common heritage, Wasserman said.
The play is applicable in modern times as people still question the reasonableness of a war and the justifications behind it.
"There is this idea of fighting the right or wrong war. Why are we fighting? Is it for the right reasons or for the wrong reasons?" Wasserman said. "We're still asking these questions today. It goes without saying that some wars need to be fought because we are always asking: Is it the war that should be fought?"
Gender equality also makes up a component of the play.
"Watching this play, many of us might forget that unlike Roman women, where they would have been free to leave the house, for Athenian women, it was not this way. They were more or less creatures of their own household," Wasserman said. "So from a Greek point of view it is even more outrageous that the women snuck out and went to a public forum where they would have had no place."
Tickets are $7 for USI students, $12 for adults and $10 for USI employees, seniors (60 and older) and non-USI students.