Seniors bring art to life: Work on display in campus gallery through December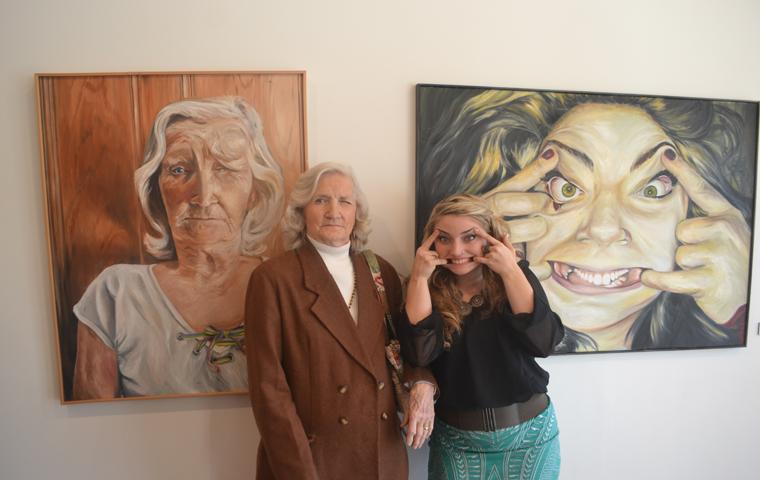 Lacey Wolford used to get in trouble as a child, often sneaking into cookie jars and breaking knick-knacks.
If her grandmother spotted the shenanigans, she would yell out to the girl, "Grandma Kill."
The memory is captured in an oil paint slathered canvas that hung in USI's Kenneth P. McCutchan Art Center/Palmina F. and Stephen S. Pace Galleries Sunday at the 2014 Senior Seminar Exhibition.
The piece, titled "Grandma Kill," depicts Wolford's grandmother scowling with one eye closed.
"My grandma is stern in some cases," Wolford said. "It's kind of like that Grandma's can see anything, (even) with one eye closed."
Wolford, a senior studio art major, showcased three of her paintings in Saturday's show.
She became drawn toward art at the end of high school and said she derives inspiration from childhood fears.
In another piece called "Child's View: Silly Face," Wolford paints herself stretching back her face and extending her tongue.
"I'm putting the viewer in a child's perspective," she said. "So when you look at it you're like a little kid again and think, 'This is not comfortable. This is not funny.'"
The painting should make people realize that children need personal space, too, she said.
Wolford admires artists with a similar style, like Andrew Salgado, who creates large scale, figurative paintings.
The senior art showing, which will be on display through Dec. 3, featured the work of 51 soon-to-be graduates.
The art ranged from oil on canvas, to graphic design and photography, to sculpture.
Matt Perez started out at USI as a journalism major, but always had a knack for seeing beauty in the mundane, he said.
"I always used to see things in shapes. Like you look at a wood grain and see faces," Perez said.
While at a friend's house, Perez sorted through chicken wire and noticed that the way the wire curved, it looked like an animal.
The next day, he went home, took apart some coat hangers and bought a roll of chicken wire.
He began experimenting with the material and fell in love with it, Perez said.
Now a studio art major with an emphasis in sculpture, Perez featured his latest creation Sunday, a shoulder-high wire sculpture of a Yeti.
The piece is titled "Yim Yeti" after the My Morning Jacket frontman Jim James, who is also known as Yim Yames.
"It kind of signifies like a protection piece," Perez said.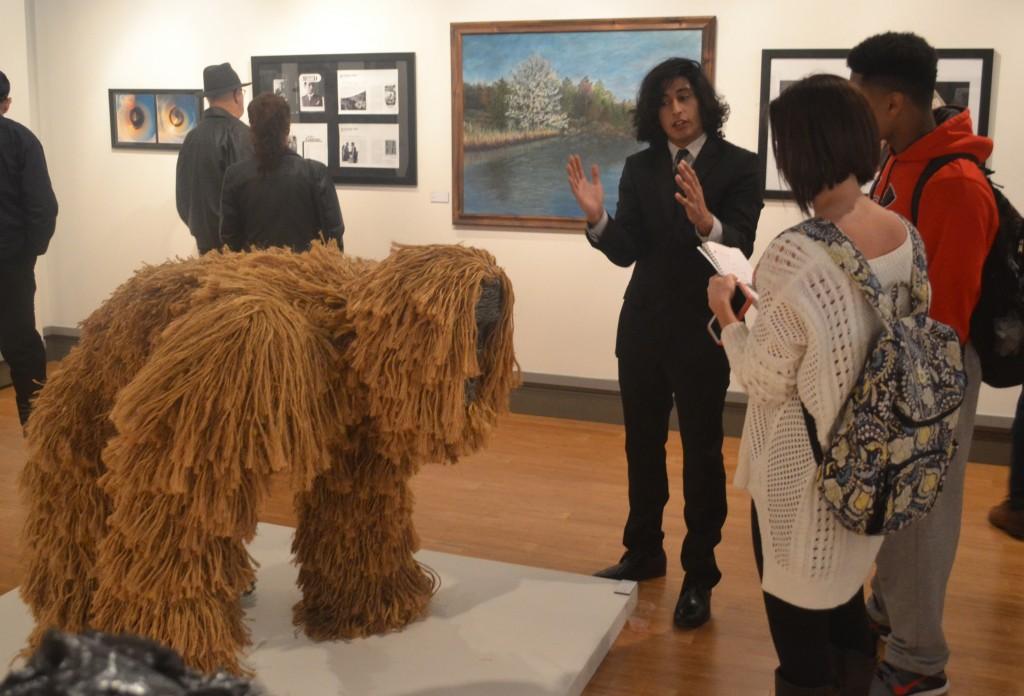 To craft the beast, Perez started with a steel rod infrastructure that he welded together and then wrapped chicken wire around the rod's curvature.
Next, he crimped manila rope to the steel wire and unraveled it to make the fur.
The process took about 350 hours to complete.
Perez said there was a miniature version of the Yeti that would have sat with the larger piece when finished.
"One of my friends went through a bad breakup where her boyfriend had a daughter and, once they broke up, she didn't get to see the daughter a lot," he said. "So I just gave her the (miniature) Yeti."
The baby Yeti would serve as a replacement, he said.
"Now I feel like it's the Yeti looking for that baby still," he said of the sculpture's new meaning.
Perez said the yeti cost around $1,000 to make, but won him a total of $1,500 in prizes and scholarship money at the Student Art Show and was sold to a private art collector for $1,200.
Perez said his next project could take him up to 600 hours to complete.
It will be a similar style sculpture of a yarn giraffe sitting on a toilet reading the New Yorker.
"That's the only mammal that looks down on us, so I wanted to make it to where it's catching the giraffe at a low point," he said.
Wolford said she has grown as an artist during her time at USI.
"I can actually see my style in my works and I have developed concepts better," she said. "There's definitely improvement from the first couple paintings I have done."
The senior showcase, as a whole, impressed her, Wolford said.
"I think we do have a really strong group. I mean, it's just such a nice variety," she said. "You actually get to see design pieces in here. I am glad everyone is at their best."