Defensive player earns offensive honor
Abbey Winter, known for her strong defense, was named the Baden/Great Lakes Valley Conference Offensive Player of the Week after the Volleyball team had 3 stand-out wins.
The junior middle blocker earned the honor Oct. 13, after the team beat Kentucky State University, McKendree University, and the University of Illinois-Springfield in what women's volleyball coach Leah Mercer said was "a little bit weaker schedule than the rest of the conference."
Winter had impressive numbers that week, averaging 4.12 points per set in each match.
She had similar numbers in all matches with 11 kills each in the matches against Kentucky State  and McKendree. She ended up with 12 kills in the match against Springfield.
Winter also excelled with aces in two of the three matches, earning three against Mckendree and two against Illinois Springfield.
Mercer said strong defense is actually one of Winter's stand-out skills.
"It's funny because we are talking about her getting offensive player of the week," Mercer said. "One of the things she came in and brought right away was her defense and blocking,"
Winter showed this defense within her offensive play in the three matches.
She had four blocks against Kentucky State, five blocks against McKendree and ended the week's matches with her best performance against Springfield.
She ended the week with an average of 2.83 kills, 0.50 aces and 1.42 blocks per frame.
Mercer is impressed with Winter's offensive growth.
"Her offense is something that has come full circle and increased every year and gotten better," Mercer said.
The award was a surprise to Winter despite her impressive showing in the three matches.
"I knew I had a good week, but I wasn't expecting to get player of the week," Winter said.
Coach Mercer was less surprised.
"I knew she had a really good week. It kind of depends on how the rest of the conference did, who they played, who they beat and lost to," she said, "So no, I mean, I guess it shouldn't be a surprise, but it was a nice award to kind of keep our season going up and up."
Winter has set more goals for herself that go beyond this achievement.
"I am working towards breaking the career blocking goal by the end of my career," Winter said.
She has already broken USI's record for single-season blocks, so it is the next step.
Coach Mercer has similar hopes for her.
Mercer said she is looking for her "to be a huge blocking force for us at the net and for her offense to just continue to improve with every match."
She described Winter as a leader on the team.
"She's someone the team has identified as someone they look up to," she said.
With that in mind, Mercer also said she looks for Winter to be "more of a vocal leader on the court," as she continues to play for the team.
The team is scheduled to play Quincy University at 5 p.m. Saturday in the Physical Activities Center.
About the Writer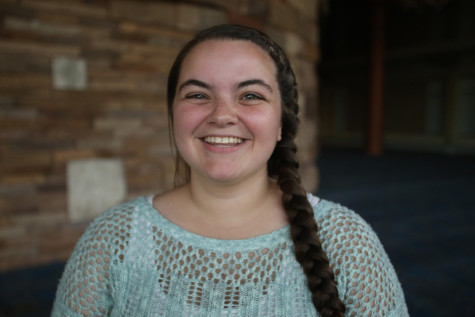 Sarah Loesch, Community Engagement Manager
Sarah Loesch is a senior journalism major with a Spanish minor.