Obama visits Tri-State Friday
Hang on for a minute...we're trying to find some more stories you might like.
RSVP-only guests gathered Friday at Evansville Regional Airport to see President Barack Obama as he arrived on Air Force One.
Lita Ossenberg grew reminiscent and said Obama is the third president she's had the chance to meet personally, the other two being George W. Bush and Gerald Ford.
"That was a stroke of luck, but it was very exciting to sit by a former president," Lita said, telling the story of the time she'd encountered Ford after his time in office.
Earlier in her life, she worked as a flight attendant for American Airlines, so seeing Air Force One was also exciting for her, she said.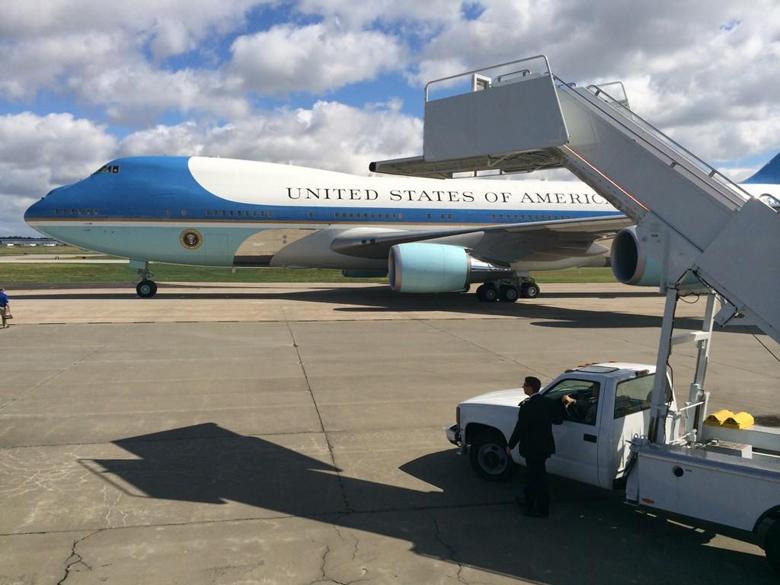 Obama, who departed from Joint Base Andrews in Washington D.C., arrived at Evansville Regional Airport aboard Air Force One at 1:05 p.m., five minutes after Obama was scheduled to arrive.
The president spoke in length with Gov. Mike Pence and Congressman Larry Bucshon after he exited the plane.
The President was visiting the Tri-State area to speak to Millennium Steel employees in Princeton, Indiana, about the current state of the economy.
USI Engineering students were invited to hear Obama speak by Millennium Steel General Manager Mihir Panajape event after he spoke at the university Sept. 24.
When Obama stepped onto the stage at the Millennium Steel warehouse, one of the first things he said to the crowd was, "Instead of giving a long speech, I want to have a conversation with everybody."
And that's exactly what happened.
The president's speech focused on the economy and the role manufacturing plays.
"The reason we set up this National Manufacturing Day is because young people aren't aware of the opportunities in manufacturing," he said. "Manufacturing will be smack dab in the middle of rebuilding the economy."
After the President delivered a ten-minute speech highlighting the turnaround of the economy, asked for support in raising the minimum wage and challenged Congress to stop road blocking plans to rebuild America's infrastructure, he turned the microphone over to the crowd for a question and answer session.
Questions, which ranged from the war on coal to tax cuts, were asked in a "boy-girl-boy-girl" fashion so that "everyone gets a turn," the president said.
A USI secondary education major asked the president what can be done to end income inequality for women.
"Women earn 77 cents for every dollar a man makes," the president said. "The first thing I did when I took office was sign the Ledbetter bill."
The Lilly Ledbetter Fair Pay Act of 2009 resets the 180-day statute of limitation for filing an equal pay lawsuit after every new paycheck.
There is currently a fair pay bill before Congress, but it's blocked by Republicans and hasn't come up for vote, Obama said.
The President finished answering the question by addressing "family-friendly policies."
Reforming "family-friendly policies," such as family leave policies and affordable child care will ultimately lead to helping women in the workforce by ensuring they won't have to miss excess work and lose a portion of income, he said.
It was also the President and First Lady Michelle Obama's wedding anniversary – made known to some during the question and answer session.
"Isn't today your anniversary?" a man in the crowd asked.
After a brief chuckle, the president joked, "Twenty-two years she's been putting up with me."
The president concluded his visit to the Tri-State by promising to "continue to fight" for changes to be made while he still has "the great privilege of being the president of this great nation."
You can watch the President's speech live here:
Video: