Parking lot partially closed for landscaping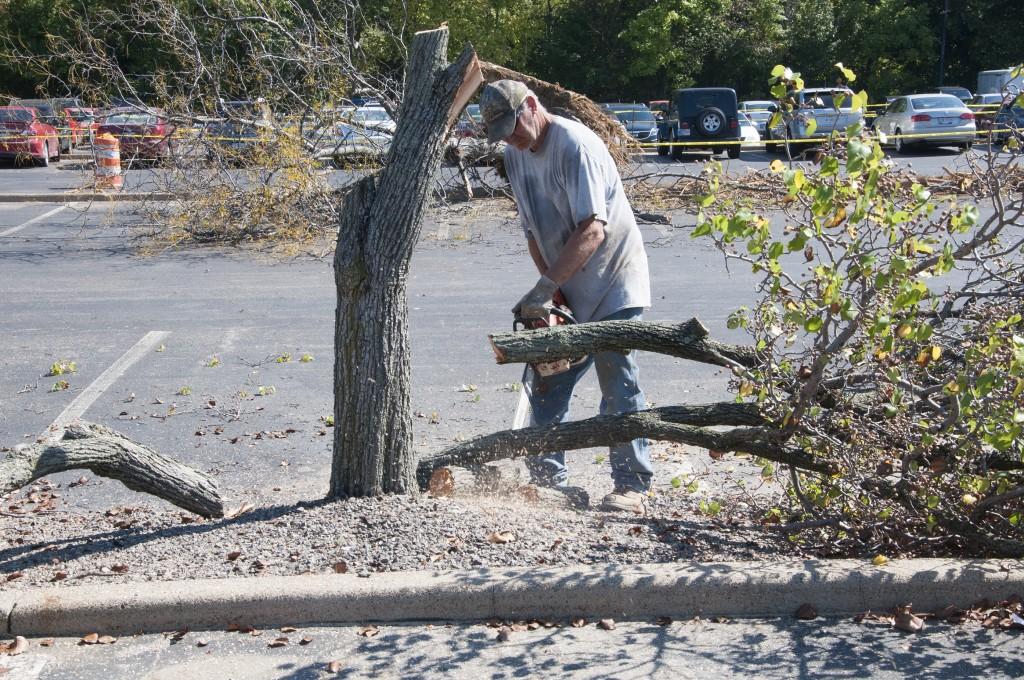 Sections of Parking Lot C are blocked off as construction crews tackle the university's latest renovation project.
Equipment has been moved in to help cut down old trees and dig out gravel that is in the flowerbeds. Because of this, many parking spots are unavailable, forcing motorists to park further back in the lot.
"It is annoying that so many spots are being taken up by the project," said April Nuffer, a biology major. "But once it is finished, it will be nice."
The plan calls for eight different types of trees and 10 different kinds of bushes to be planted. Sod will also be put down in certain areas, and water lines will be installed in the flowerbeds to water the fresh greenery.
The lot was partially closed because there were many dead trees in the flowerbeds, said Miles Mann, Facility Operations assistant director. More dead trees have already been cut down to stumps.
There was another issue with the lot. After a heavy rainfall, the rocks in the flowerbeds often washed out into the parking lot, forcing maintenance crews to clean up the mess.
In order to resolve the issues, the university proposed a plan to remove the rocks and update the landscaping. Mann said the plan has been in the works for a couple of years.
"The parking lots have looked unsightly with all the dead plantings in them, and there was an additional maintenance problem with the rocks washing out with any heavy rainfall," Mann said.
The project will cost an estimated $500,000, according to Mark Rozewski, vice president for finance and administration.
Rozewski said the university is planting three times as many trees as there are now and said the lot construction will move in phases. It should be completed by the end of the semester.
"We are installing larger, more stable rock mulch so that the mulch won't wash into the parking lots," he said.
Mann said the project is a good investment since it takes away the need for a lot of continual upkeep.
Parking Lot C will be the only lot closed this semester, but the university plans to fix the landscaping in Lots A and B next summer.