USI instructor spreads Chinese heritage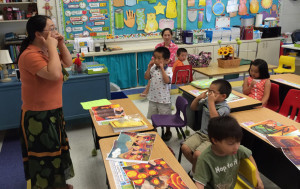 Chinese Instructor Chunmei Guan wants to increase the local diversity of Chinese culture in the Midwest.
She began teaching Chinese at Signature School in Evansville in 2007, and taught there for two-and-a-half years before she headed back to China. In 2011, Guan's husband sponsored a trip to America for Guan and her daughter to reunite with her family.
After her return, Guan began working at USI in January 2013 as a Chinese instructor in the World Language Department.
Two months later she decided to reopen the Tri-State Chinese Culture Associates (TSCCA) located at St. Paul Lutheran Church. First established in the 1980s, TSCCA is a non-profit organization with a mission to enhance other's knowledge of Chinese culture.
After closing for a period of time, volunteer teachers, along with Guan, who is the academic affairs director, decided it was time for the Chinese children of the Midwest to know about their heritage.
"My passion (is) to teach," she said. "I love kids. I love teaching. I want to make a difference."
The TSCCA offers five classes each Sunday for adopted Chinese children to learn about their heritage. Each class is lead by a volunteer teacher who strives to open more opportunities for those in the Midwest.
Upon opening, the TSCCA had 40 young Chinese students enrolled, as well as a few parents. The parents sought this to be an amazing opportunity to understand their children's heritage, Guan said. At the parents' request, Guan said she hopes to start an adult Chinese class to help benefit the Chinese children of American families, as it will give them more support in learning a new culture together.
"For the American families, they need more preparation, more motivate(ion), more drive to help their kids and to develop and improve with their kids together," Guan said.
Volunteer Teacher Wini Atkins wants adopted Chinese children to become educated about their culture. Atkins found out about TSCCA through a Chinese nursery rhyme program the children participated in last January. Since then, she has found TSCCA to be a wonderful experience for herself, and her son, who she enrolled in the school this year.
Teaching at TSCCA motivates Atkins to accurately inform the children in class about their heritage, she said. Being in a classroom setting enhances learning, as the children are able to talk with each other one on one, making for a more authentic experience.
"It will be a lot more comfortable for me," Atkins said.
She will then be able to hold conversations with her students in Chinese.
Guan said she wants to enrich local diversity and that, compared to other regions of the U.S., the Midwest has very few people of Chinese background.
To highlight the local Chinese community, there will be a Moon Festival from 4 p.m. to 7 p.m. Saturday at St. Paul Lutheran Church. The Moon Festival will be a time of thanks, family, worship of the moon and love.
"We will drink some tea and taste some moon cakes and look at the moon to show our love – our worship," Guan said. "Even in China, it's a national holiday."
Though Guan's enthusiasm for educating those about her heritage is her motivation, sadly she will not teach Chinese this semester at USI. Unlike schools such as Purdue, Indiana University, Ball State and Butler, USI has a low enrollment rate for Chinese classes, which Guan said needs to change. Over the past two years, USI offered a school funded summer program to send students to the South West University in Chongqing, China.
"Some of the students when they came back they shared some experiences with us," Guan said. "Even some of the students said, 'Oh wow. I want to stay in China'."
Since then, Guan has created a pen pal group in China. This allows for her students, and those in China, to practice each other's languages, giving them both opportunities to explore a new culture and environment.
"There should be more Chinese students from China here, so we can open more windows and do more marketing," Guan said. "In China, we have a big market for going to the U.S."