Chi Alpha creates Lengacher legacy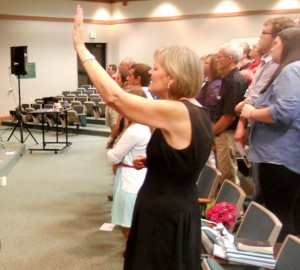 During Chi Alpha's memorial for Emily Lengacher Sept. 4, friends shared their favorite memories of the student who died Aug. 29 in a car accident.
Aaron Gottman talked about how he first met Lengacher during Welcome Week of his freshman year, when he ran into her while rollerblading.
"That's an interesting way to meet someone by the way," the business administration major said.
He said Emily was always there for him.
"She was the first person at USI I felt like I could really talk to," he said. "She was one of my dearest friends and I'm going to miss her so much."
"We feel like we've lost an angel," said Lengacher's mother, Janice. "We feel like God gave us an angel for 21 years."
At every Chi Alpha meeting, members wear name tags and Lengacher made a habit of collecting everyone's name tags at the end of each meeting and putting them on her bedroom wall, said Bev Freud, the group's pastor.
During the memorial service, Lengacher's Chi Alpha t-shirt was passed around Mitchell Auditorium, and all of the attendants were asked to place their name tags on the shirt, which was later presented to Lengacher's parents and sister.
Janice shared Emily's journal, which mostly contained her interpretation of different Bible verses. The last thing she wrote in the journal said, "Whatever happens is God's plan." It was followed by a proverb, "She is clothed with strength and dignity and she laughs without fear of the future."
Chi Alpha created an Emily Lengacher Memorial Scholarship Fund for members who would like to attend a mission trip or a conference, but may not be able to afford it. The award will be given annually and is based on the student's individual need. Anyone in the community can contribute to the fund by contacting Freud.