Award-winning filmmaker returns to USI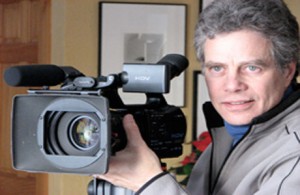 John Imber's life as an artist took a sharp turn after his right hand began to deteriorate.
In the fall of 2012, Imber was diagnosed with amyotrophic lateral sclerosis, or ALS, a fatal degenerative condition also known as Lou Gehrig's disease.
"John Imber's Left hand," documents Imber's journey as he struggles to adapt his skills in order to continue doing what he truly loves.
Producer Richard Kane said the title is as much a metaphor for how one creates life out of a very difficult circumstance as it is literal.
"Jon Imber chose to continue painting in a very unorthodox way because to him," Kane said. "Painting was his life, and if he couldn't paint, he couldn't live."
Kane will host a screening the film at 3:30 p.m. on Friday in Kleymeyer Hall in the Liberal Arts Center.
While the film does focus on Imber's life with ALS, it also shows how Imber's wife began to assist his painting as the disease progresses, Kane said.
"It becomes clear that the film is really a love story between Imber and his wife, Jill Hoy," Kane said.
Kane said that Imber underwent a transformation internally throughout production. Before the diagnosis Imber was a more reserved individual unaccustomed to letting people in, but after the diagnosis, he develops a sense of community and begins to open up to others.
The film uses dark humor and insight into the artist's life to show viewers how to live while on death's path.
In previous USI visits, Kane presented his Emmy nominated film, "Stephen Pace: Maine Master".
"When I met Stephen Pace in 1977 at the New Harmony Gallery of Contemporary Art, I was bowled over by his paintings and I said at that time, 'Someday I have to make a film about this man,'" Kane said. "Thirty years later, I found out he was living just 30 minutes from my home in Stonington, Maine, and the timing was perfect."
The film features Pace and his art, and was an installment in his award winning series, Maine Masters, which highlights artists found in Maine. More about the Main Masters series can be found at www.mainemasters.com.
"Jon Imber's Left Hand" is the 15th film in the Maine Masters series.
"Jon was one of the great painters who lived in Maine," Kane said. "We just decided it was important to document his life and art while he was still well and painting — important for his legacy to see him apparently healthy and important for the film's dramatic arc to see the contrast between his healthy state and his deteriorated state."
Kane got his start in film at Temple University in Philadelphia. After grad school, he worked at WNIN in Evansville. In addition Kane produced, directed and wrote a short narrated by President
Bill Clinton, acted as Chairman of the Board of the Maine Film & Video Association andProduced and much more.
The inspiration for Kane's projects comes from his wife, Melody Lewis-Kane, who works alongside him at their production company, Kane-Lewis Productions, he said. Visit www.kanelewis.com for more info.
Although he and his wife now live in Maine, Kane said he Evansville still affect his art.
"Melody was the one who inspired me to be more interested in art and artists and to make films about them," Kane said. "All throughout my career, I was influenced by artists from the Evansville area, and that continues."