Here's Johnnie! Runner with national title looks forward to more wins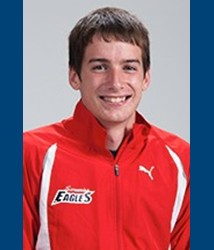 Johnnie Guy went out with a bang last spring by becoming the first USI Men's runner in 16 years to win a national title.
The junior engineering major placed first in the 10,000 meter at the NCAA Division II Outdoor Track & Field Championship.
But this type of success did not come easy for Guy.
"It's a lot of hard work, honestly," Guy said. "We run 110 miles a week, varying throughout the season based on meets and stuff and we have weights, so theres a lot of time that goes into it."
Being an engineering major, Guy also must also remain focused on school.
"It's a lot of sacrifice to be an athlete," Guy said. "You can't do a lot of stuff that normal college kids can and you have to dedicate yourself to a sport while staying on top of your school work. It's definitely a challenge to balance engineering and running."
But he's not just balancing those two things. Track & Field is just one of three sports Guy is involved in. Throughout the year he competes in Cross Country, Indoor Track & Field and Outdoor Track & Field.
"We have cross country season, then indoor track, then outdoor track," Guy said. "We take two or three days off between indoor and outdoor track and like four between cross country and indoor track. So I have like two weeks a year off tops."
With all of the running Guy does throughout the year, it's hard not to become so talented. All of this running put him next to USI alumna and Great Lakes Valley Conference Hall of Fame member Elly Rono as the only men's runners in school history to win a national title.
"It was a great feeling to win, anybody could tell you that. I knew I had a shot going in, I knew I was gonna be there, I was really confident in my training and I was having a great year," Guy said.
"I was shocked at first. I didn't believe it, but then I was just happy, especially having a lot of teammates there to cheer me on. I wasn't really expected to win."
Guy isn't done impressing people yet. He hopes his junior year will bring even more success.
"I really would like to win a cross country title. I feel I'm one of the three or four favorites for that, but I mean it's not gonna be easy, but that's definitely one of the main goals," Guy said. "I also want to come back and defend my title and maybe win the 5k too so I can have double- Maybe get an indoor award, too."