Women's golf swinging well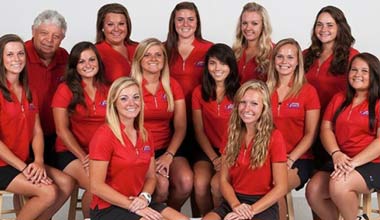 Chris Procacina
April 30, 2014
Hang on for a minute...we're trying to find some more stories you might like.
During the GLVC Championship April 26-27, the women's golf team had something more to play for than a tournament title. Head Women's Golf Coach Don Bisesi made one trip with his team at the beginning of the year. They traveled to Las Vegas earlier this season as he continued his fight against cancer. The team has been motivating themselves to make their coach proud.
After their performance, proud may be an understatement. Sophomore Anastasia Carter captured the third ever individual GLVC title in school history with a two-day score of 145 and earned All-GLVC honors.
The team, as a whole, finished second in the tournament and tied for their best finish of the year. Capping off their success was a selection for the NCAA Division II East Super Regional.
Senior Taylor Merriss knew prior to their successful run at the GLVC Tournament hosted in Waterloo, Illinois that the team had yet to play their best golf.
"We haven't put our best course together yet which, hopefully, we can do in conference," said Merriss, who finished 44 out of the 70 competitor field.
Fellow USI golfer Allison Koester finished 11th while Kaelyn Ligenfelter finished close behind in 13th.
"Now he's back on chemotherapy, but that's pretty much all we know," Merriss said. "He tells us all positive things so we don't worry."
"I miss everybody and the whole athletic department has been really nice to me. I'm ready to get back out there and get back in the mix," Bisesi said prior to the season.
He will be cheering on his team as they compete at regionals May 4-6 at Purgatory Golf Club in Noblesville, Indiana.