Valley Vibrations: Thunder/Dreamer spreads its sound
Hang on for a minute...we're trying to find some more stories you might like.
Valley Vibrations profiles local and regional musical talent found playing frequently throughout the Ohio Valley area – more specifically Evansville, Ind.
Watch music videos and extras for this week's band at usishield.com.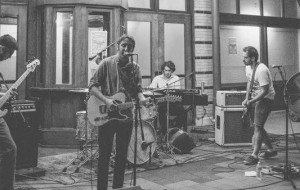 The Sound
Thunder/Dreamer blew up the Evansville local music scene last year playing about 15 shows throughout the area.
"It's sort of like a normal rock, Americana kind of indie sound," Steve Hamilton said.
Hamilton is the lead vocalist and songwriter for Thunder/Dreamer and derives much of his musical influences from bands like Pedro the Lion and The Felice Brothers.
Many songs are based on family life and day-to-day experiences and consist of fictional tales he has crafted.
"Usually it's kind of love or heartbreak songs, or sometimes it's songs about my childhood or my family," he said. "Sometimes I just kind of put words together in more of a poetry (format) and … it brings up different feelings."
He sat at a round, wooden picnic table in a small but scenic patio dressed with greenery. Hamilton, as well as the band's drummer, Corey Greenfield, described the band's overall tune behind a two-story plum purple café.
Greenfield said Thunder/Dreamer's songs contain a hint of soul.
"Not an overbearing amount, but I feel like some of the songs have a soulish crooning to them," he said, "to the point to (where) you can listen hard enough and you can hear some of the Sam Cook influence – some of the Otis Red influence."
Greenfield said the band's music doesn't sound right unless the whole band is, "feeling it."
The patio melds into the café-lounge-bar-art showroom that is PG via garage door, which leads into a ground level stage that often hosts local bands.
The last time Thunder/Dreamer performed at PG, it had been an incredible experience, the three said. Bass player Alex Wallwork wasn't able to meet and talk about Thunder/Dreamer.
"That night, we got a lot of compliments which were really humbling," Greenfield said. "I got a lot of people complimenting (us) on our tone and whatnot saying that we've got that down, and that's a really cool thing to hear as a musician – that fact that people appreciate your tone," he said with a chuckle. "Not only your music but your tone."
Musical Beginnings 
Corey Greenfield's father is quite the collector of music.
"He would let me borrow tapes whenever I was young. The first tape I ever owned was Steve Miller Band, which is an odd one," he said. "He has a direct influence on why I wanted to start playing music."
He took guitar lessons for about a year-and-a-half before his "S.O.B." of a guitar teacher made him want to quit, Greenfield said.
He pawned his guitar and began playing snare drums at school.
Greenfield and Hamilton have known each other their whole lives. They attended Reitz High School together in Evansville, Ind., and played in another band together for several years prior to Thunder/Dreamer.
"The first time Zach played with us, I immediately knew that we were going in the right direction. He brought out a whole element to the songs that we didn't have before," Greenfield said. "There was a lot space that needed to be filled, and he just did a beautiful job."
Zach Zint is the pianist/keyboardist for Thunder/Dreamer.
"I originally wanted to play guitar, and I got a little electric guitar. When I was watching like MTV or something, I decided, when I was hanging out with my buddy, to just smash it," Zint said. "So I didn't have a guitar anymore."
Zint became obsessed with playing keyboard after his mother and grandmother bought him a Casio, which he did not smash, he said.
The band had been together for about two years, but Zint joined in September.
"Corey (Greenfield) asked me to join whenever they first started playing and, at the time, I was just getting out of a relationship and it just wasn't a good time," Zint said.
Greenfield and Zint worked together previously on a collaborative project with another band. Greenfield said he had Zint in mind for the band ever since. Unlike Zint and Greenfield, Steve Hamilton wanted to be a drummer originally, but his mother wouldn't allow it.
In middle school, he played the trumpet and eventually developed an interest in guitar as a teenager.
Hamilton's earliest memories of his passion for music are of dancing around and belting out "Sweet Dreams" by the Eutharythmics.
"I think I have always had an appreciation for music ever since I was really little. Sometimes I would just sing. I would make up melodies," Hamilton said. "I listened to a lot of music and would learn the songs that I liked and then eventually started writing my own songs."
Creating an image
"People hear Thunder/Dreamer and they don't really know what kind of band that could even be," Steve Hamilton said. "I think a lot of times they're surprised as to how we sound."
When Hamilton and Corey Greenfield knew they wanted to start a band, the musicians needed a name for it.
While Greenfield lived in Austin, Texas, they would hang out at bars and text back and forth ideas.
Hamilton had the idea of meshing together two, "cool-sounding" words.
"I just thought of Thunder/Dreamer," Greenfield said, "and then I think his response was, 'I'm pretty buzzed, but I think I like it.'"
They felt it was unnecessary to waste tons of time trying to find a name with a lot of significance.
"We had discussed how titles don't really mean much," Greenfield said. "A lot of bands think too hard about the title and they almost think whatever they name the band is going to define them. They don't realize that it's the sound and it's the experience that I think give your name meaning."
Zach Zint cried the first time he played "Now We Know" as a part of the band.
"Lyrically, the song feels very important. But musically, it's just a powerful song," Zint said. "It pulls you in and then it brings you up to different places that are amazing."
Hamilton wrote the song about a time when he was walking the streets of Louisville, Ky., while visiting his brother. It accounts the feelings of visiting a familiar town, which may not be one's home but feels as such.
"The sound defines the name instead of the other way around," Zint said.
The three said they try and space their Evansville shows out by a minimum of two months because Thunder/Dreamer is trying to spread its sound.
The band's next Evansville show is at 8 p.m. Friday at PG alongside Kentucky Nightmare, Secondary Modern and The Dang Heathens.
In a recent show in Owensboro, Ky., Thunder/Dreamer had its first experience signing an autograph for a fan when a gentleman asked the four to sign his shirt.
Zint said the man left them with a memorable quote.
"You guys are going places."