Women's basketball moving on in GLVC Tournament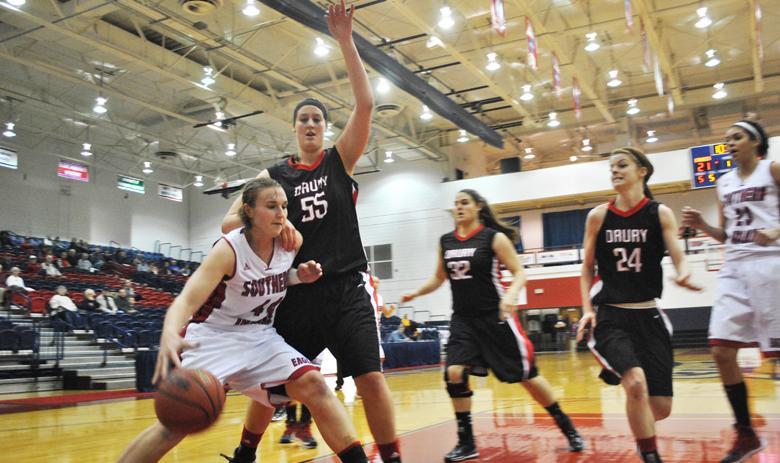 Chris Procacina
March 3, 2014
For the USI women's basketball team, Sunday's first round game of the GLVC Tournament shut the door on a decade of disappointment.
The Lady Eagles (19-9, 13-6 GLVC) defeated the Miners of Missouri S&T (9-18, 5-14) in front of a diminished PAC crowd due to the hazardous weather conditions. Despite a slow start, USI gained the lead just over five minutes into the game and never looked back, snapping their winless streak in the tournament dating back to 2004.
Junior guard Anna Hackert posted a double-double in the victory, (13-10).
"It was a tough game, and it feels really good to get that first win out of the way and go to the Ford Center," Hackert said.
The Eagles's defense was the focus of the game. The Miners's offense was stifled by 23 turnovers and a combined 12 steals by USI.
The Eagles fought on offense, as well, with junior center Mary O'Keefe who tallied 10 points and senior guard Stephanie Carpenter who led all scorers with 20 points.
"I think my teammates helped me out with (scoring). They told me to keep shooting and we kept getting offensive rebounds off the misses so that helps," Carpenter said.
An early surge in the second half brought the Miners within nine points, but the Eagles quickly took back control to close the game out. USI Head Coach Rick Stein intends to continue relying on his team's defense.
"That's what we've done all year really, especially in our wins, we have relied on defense," he said.
Following their win, the USI women  had three members of the team named to the All-GLVC conference teams. Junior foreward Anna Hackert was unanimously named to first-team All-GLVC while senior guard Stephanie Carpenter made second-team All GLVC. Hackert and junior guard Autumn Miller were named to GLVC All Defensive Team.
Stephanie Carpenter will also look to make history in the team's quarterfinal game. She is 11 points shy of becoming 14th player in school history to score a thousand points. If she accomplishes the feat, she will join Anna Hackert as the second member on the current team to reach the milestone.
Up next for the Eagles is Quincy University. In the last match-up between the teams on Feb. 8, USI lost by a score of 90-87 playing on the road at Quincy.  Tip off for the quarterfinal round will be 8:30 p.m. Thursday at the Ford Center.