Packed PAC motivates men's team to win
Chris Procacina
February 16, 2014
Hang on for a minute...we're trying to find some more stories you might like.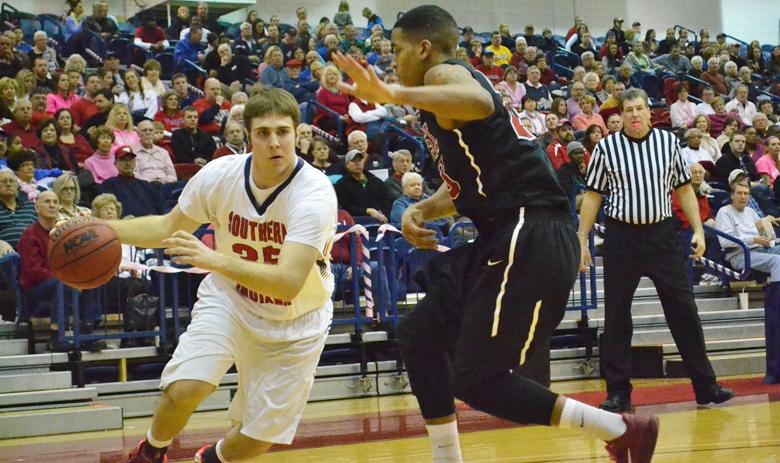 The pressure of performing in front of a packed crowd did little to distract the Eagles (19-4, 11-4 GLVC), who cruised to a 58-75 victory Saturday afternoon against the University of Missouri-St. Louis (13-10, 7-8 GLVC).
On a night that featured the homecoming ceremony and benefitted the Play4Kay initiative to raise breast cancer awareness, USI stepped up to the occasion.
USI head coach Rodney Watson kept things in perspective.
"You know, cancer touches everyone and I don't know of a single person on planet earth that disease doesn't touch. I think it's important for us all to be aware of anything we can do to end this crazy disease one day. This is way bigger than basketball," Watson said.
The Eagles held a 41-32 lead at half time, fueled in great part by a perfect 9-9 record from the free throw line.  USI finished the game shooting 49 percent from the floor in an effort that saw Taylor Wischmeier, Orlando Rutledge, Chuck Jones and Lawrence Thomas all post double digit scores.
Senior forward Wischmeier poured in a game high 17 points and added 13 rebounds to lead the way for the Eagles.
"We knew it was a big game for us. We got to win as many games as we can going the rest of the way," Wischmeier said.
USI now faces the task of preparing for No. 4 ranked University of Indianapolis, who has won 9 straight games since their trip to Evansville on Jan. 18, losing to the Eagles 64-73. The team will travel to Nicoson Hall in Indianapolis on Feb. 22 for the rematch.
"Every time we go there it's a tough game. I know they want to get us back. It's an important game for conference and it's an important game for us," said senior guard Lawrence Thomas who played more minutes – 34 – than any other player in the game.
Coach Watson said he has the "upmost respect" for UIndy.
"They are one of the best teams in the country," he said. "They are playing with incredible confidence right now, so we know it will be a tough game."
With three games left in their season, the USI men's basketball team will close out their year with two games on the road.
Thursday the Eagles will travel to the University of Indianapolis (21-2, 13-2 GLVC) to play the Greyhounds and continue their road trip Saturday taking on St. Joseph's College (4-21, 1-14 GLVC).
The University of Indianapolis is now ranked fourth in the nation and has been riding a 9-game win streak since losing 63-74 to USI on Jan. 18. The Greyhounds currently sit atop the GLVC as the No. 1 ranked team.
The Eagles will close out their season against Bellarmine University (18-5, 10-5 GLVC)  Feb. 27 at the Physical Activities Center.
Saturday's game will take USI to the opposite end of the GLVC rankings where St. Joseph's College resides in last place.
Bellarmine, once the No. 2-ranked team in the nation, will be looking for payback in after losing to USI in overtime by a last second tip-in by USI Gavin Schumann. Since their loss to USI, the Knights have gone 5-3 and fallen out of the national top 25 rankings.