Men's team takes another win
Dennis Marshall
January 19, 2014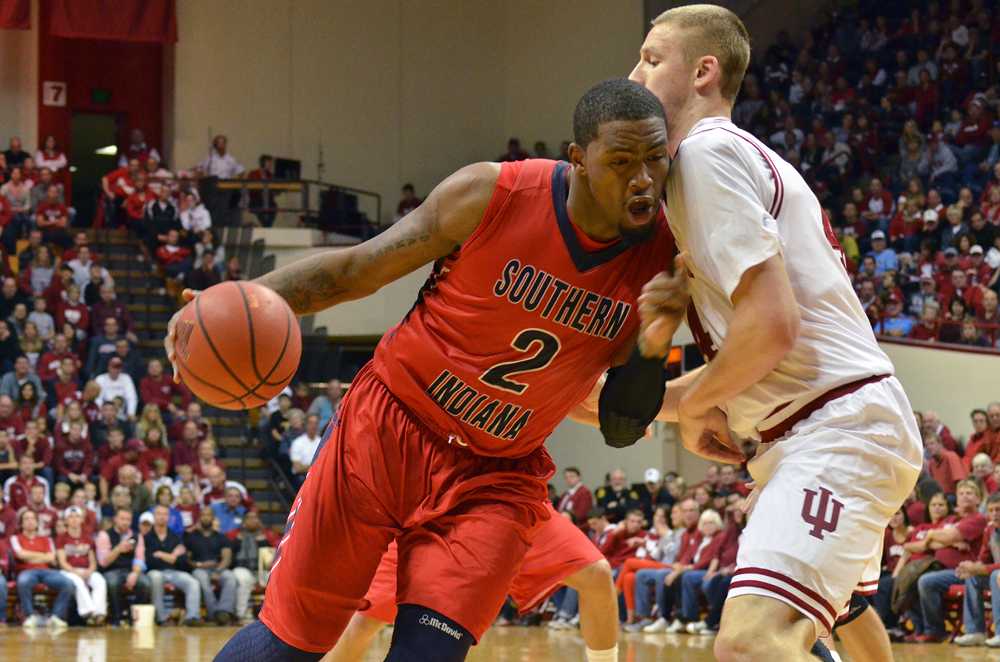 USI men's basketball team added another win to its tournament résumé Saturday, when it knocked off the No. 14 ranked University of Indianapolis, 73-64 at the Physical Activities Center.
Senior guard Lawrence Thomas led all scorers with 16 points after not taking a shot in the Eagles 97-78 win against Saint Joseph's College Jan. 16.
"We knocked down some three-pointers," Thomas said. "That really got our momentum and our confidence up and we just took it from there."
The No. 10 ranked Screaming Eagles hit 37 of 44 free throws, including 18 of 20 over the final 6:26 of the game.
"I think that's what won the game for us tonight," Thomas said.
The Eagles also played some lock down defense in the second half, where they held the Greyhounds scoreless for over five minutes.
"Coach (Gerald) Good did a great job with the scouting report," Thomas said. "We didn't gamble that much, we stayed in position.  Being in position in help-side defense and cutting off angles really help us out tonight.""
Senior forward Aaron Nelson had 11 points and 10 rebounds, a double-double, for a USI record of 14 straight games.
"Any team in the country would love to have him (Nelson)," Thomas said. "But I'm glad he is on our team. He is the number one guy on the scouting report every night and still goes out and does what he needs to do to help our team."
USI's bench outscored Indianapolis's 28-13, led by a career-high 12 points in 17 minutes by sophomore guard and Evansville native Evan Brinkmeyer.
"Those things are nice, but the main thing is that we won," Brinkmeyer said.
Brinkmeyer was 10 of 12 from the free throw line and USI hit a season-high 84 percent from the charity strip after shooting a season-low 37 percent in their previous game against Saint Joseph's.
"We struggled Thursday night with our free throws, and we have kind of struggled all year," Brinkmeyer said. "But it has become an emphasis. We shot a lot of them yesterday and we came through today. We really knocked them down."
Senior guard Ben Jones was a key contributor for second game in a row. Jones had two crucial baskets in the second half, scoring five points in six minutes and not missing a shot in the second half.
"It's just getting into the flow of the game," Jones said. "Our team is really starting to play well together. With experience playing together, and I think now, with our confidence coming together, we're all just ready to play. We've all been playing together long enough that we all work well off of each other."
On the night USI honored the 1994 national finalist team, a team that Indianapolis head coach Stan "Superman" Gouard was a member of, the Eagles's smothering defense was too much for the Greyhounds.
"That's probably one of the best defensive games we've played all year. We know we had to have a game like this because of the road we have to take," Jones said. "We knew we had to win this game. We lock-downed our defense, and when it mattered, we started to really rebound."
USI out-rebounded Bellarmine 20 to 12 in the second half, after losing the battle down low in the first half 18 to 16.
USI's next game is against No. 2 Bellarmine, who is coming off of a loss to Indianapolis on Jan.16. Bellarmine, 13-1, won the Division II National Championship in 2011 when they defeated BYU-Hawaii, 71-68. Bellarmine's leading scorers both average over 16 points per game, Jake Thelen (.789 FG %) and Keisten Jones (.658 FG %).
"We expect to see intensity," Jones said. "That's how Bellarmine plays. They're intense and they play really well at home. We just got to play hard. We have to play like we did tonight."