Community remembers retired professor, Shield adviser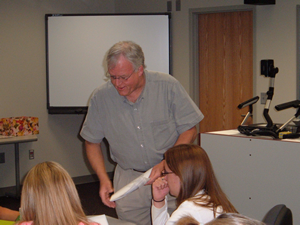 Ronald 'Ron' Roat died of natural causes Thanksgiving Day at his home in Ludington, Mich.
That's how the author, former journalism professor and longtime adviser to The Shield would have wanted the lede written, 2007 graduate Amelia Hooper said.
She remembers Roat explaining to her Basic Reporting class how a journalist should cover deaths.
"I specifically remember him calling the phrase 'passed away' as fluffy language that journalists should never use," Hooper said. "People die. They don't pass away, pass on or fly into heaven."
Hooper said she loved his no-nonsense style of teaching and signed up for a class with him each year she attended USI.
"My favorite class without a doubt was Editorial Writing," Hooper said. "He would take a relatively hands-off approach, letting us argue our points using our own perspectives, research and assumptions."
She said she liked Roat's honesty. He was fair even if what he said was brutal at times.
"He didn't expect perfection, but he expected honesty and the ability to learn and grow from mistakes," Hooper said. "He put more focus on how I rebounded from my mistakes than the actual errors themselves, and that was a lesson I've carried with me ever since."
Hooper said she and Roat kept in touch off and on over the years, but there is plenty she will miss about him.
"He had a great, witty sense of humor," Hooper said. "His explanations simply made sense, but he'd love to hear an argument against it anyway, even if just for conversation's sake."
Roat earned a bachelor's degree in journalism from Michigan State University and a master's from Oregon State.
He served as a reporter, editor or columnist at nine newspapers in Michigan, Ohio, West Virginia and Indiana.
He joined the USI faculty in 1986 and became adviser to The Shield in 1987. He was also the program coordinator of the print and online journalism sequences.
He retired from the university in 2007.
Laura Buchanan, 2007 graduate, said she liked Roat instantly.
"He always had an air about him that was so pessimistic, but on the inside he was so loveable and willing to crack a joke, especially at others' expense," Buchanan said. "His dry wit was always so attractive to the other students and me."
She said Roat never sugarcoated anything, and she learned so much about writing from that approach.
"If he thought something didn't work, he told you so, and if it were stupid, he said it was, right to your face," Buchanan said. "At the same time, if you did very well, he didn't hesitate to tell you that, either."
Buchanan said she remembers one day in particular when he told her Editorial Writing class to stop writing "bullsh*t."
"I took it personally, so I stepped up and said, 'You better tell me what your idea of bullsh*t is – that way I know, because I know your definition is different than mine,'" Buchanan said. "He replied, 'Oh, but you write bullsh*t so well.'"
That was "so Ron," responding with an insult that was mixed with a compliment, she said. He was very frank, but everyone loved him for that.
"In the professional world, your editor will often say, 'I like this, this is good' or 'This is bad, remove it.'" Buchanan said. "But I survived Roat. I can take the heat, tell me what you really think."
Communications Department Chair Wayne Rinks said he first met Ron when he interviewed at USI in 1991. He remembers his strong personality best.
"He had this really loud, somewhat boisterous laugh, and it was pretty infectious," Rinks said.
On Sept. 11, 2001, he became a lot closer to Roat.
"We were sitting in our offices three doors down from each other and I heard Ron say, 'Oh my God, you have to come here' and we saw that an airplane had crashed into the Trade Center," Rinks said. "Ron was a pilot and he said, 'How the hell does a plane hit the World Trade Center' and as we were standing there watching, the other plane crashed."
Rinks said  Roat was, in his opinion, an excellent author of crime novels.
"I was never understanding why he didn't make it bigger in that field," Rinks said. "I really thought Ron was a great writer, particularly with his crime novels. I was just totally impressed."
He said he will miss Roat's experience as a journalist, too.
"He had encountered so many of the same situations and kinds of individuals and stories," Rinks said. "His experience in that area was very valuable. It was valuable to the students and also to those of us that were his colleagues."
Brittany Evans, Roat's only daughter, said her father was not shy about his opinions and you always knew what he thought about things.
"He was very opinionated but had a giant heart and once you got to know him you would definitely see that," Evans said. "He came off as rough around the edges, which he was, but the inside was really good."
She and Roat had plenty to bond over, and they were similar in a lot of ways.
"We bonded about movies and television a lot," Evans said. "Something serious would be going on, and we would be talking about what happened on the X-Files."
She and Roat also bonded over their love for cats.
"He loved his cat," Evans said. "He thought he was funny and he talked about him like he was a person. I got that from him."
Evans said her father loved to write and read, and he never forgot his love for teaching.
"He was always teaching," Evans said. "During normal dinner conversations he would say, 'So, did you know what happened in World War II in this battle?' and then he would talk about it for 15 minutes."
She recalls his love for flying and how it was a huge part of their life.
"One of his first words was airplane," Evans said. "A couple years ago he rented a plane in Henderson and just the two of us went up, and it was really fun because I never got to do that as a kid. It was nice to just watch him do what he really liked."
Roat was excited about his newborn grandson, Coleman.
Evans and Roat were really close and she misses talking to him every day, she said.
"He was always really good with advice because he was very smart and had quite a bit of life experience," Evans said. "In any situation, he would have advice that usually turned out to be right, and I'm finding out that after he is gone there are a lot of things that I have to deal with that I wish I could ask him about."