COLUMN: River City Sound Brandon Gabriel
Ariana Beedie
November 20, 2013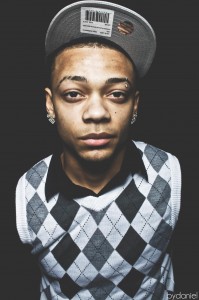 Brandon Jones, otherwise known as Brandon Gabriel or BG The Miracle, gives a young face and fresh perspective to local hip-hop and brings it to downtown Evansville.
Jones and his brothers have been collaborating with local bar The Jungle and hosting free hookah and live performances every Wednesday, Thursday and Friday since Halloween.
"My brother was the manager of the hookah lounge Oasis, but it got closed down," Jones said. "So we have electronic hookahs, and rather than having our own building, we figured we'd do it at The Jungle."
The 20-year-old sings, raps and produces but doesn't want to be labeled in any specific category.
"I don't really consider myself a rapper. I wouldn't necessarily just say that," Jones said. "I just consider myself an artist."
His inspiration for rapping and producing comes from a freedom of expression and has allowed him to make seven or eight mix tapes.
"It sounds kind of cliche, but I want to make music that matters," Jones said. "I want to make the fun songs, but I want to be able to put out music that people can really relate to."
Along with hosting shows, Jones extends his hand to other up-and-coming local musicians. Right now, he is collaborating with singer Emily Cabell because he thinks she has talent, he said.
"I found her on Facebook and hit her up and said I wanted to make music with her," Jones said. "I'm the type of person that feels like if you have a talent you need to use it."
She has a lot of potential as an artist, he said.
Through performing at an east side club, Jones was able to get his name out and gain the large local following that he currently has.
"Whenever I was first putting out music, I would only share it with certain people and that was only when I lived in Newburgh," Jones said. "When I started DJ'ing at Icon every weekend, everyone knew who I was and my name was on the radio, and I think that's where it all came from."
When he's not making music and performing, Jones studies graphic design at Ivy Tech and plans to go back for a marketing degree.
"I want to use graphic design and marketing together. Basically, I just want to make people famous," he said. "That('s) pretty much what I want to do is have a company that promotes artists and maybe local businesses."
Jones idolizes artists like Macklemore and Kendrick Lamar in the recent rap scene.
"I've been a Kendrick fan since 2009, and I take pride in that because I was telling people that he was about to be the biggest rapper and now look at him," Jones said.
Rappers that have multiple projects like acting, and producing are a great inspiration, he said.
The Norfolk, Va., native has bounced around from Newburgh to Evansville, but remained with his artistry regardless of his address.
"Some people hit me up like, 'How are you supposed to be a rapper when you live in Newburgh?' and I'm like dude, what does Newburgh have to do with music?" Jones said.
Music runs in Jones's family, with his two older brothers, father and younger sister who also rap, sing, produce and DJ.
"My brother, Junius, started making and recording music and I started using the program without anyone knowing," he said. "Finally, they heard one of my songs, and we started making music together."
One of the first songs Jones recorded to was "Grindin'" by Clipse, a popular rap group, when he was in third grade.
"Everybody rapped to that beat, it's one of the most popular beats in hip-hop," Jones said. "I just wrote to it, and I didn't tell anyone I was writing music or anything."
The first song Jones wrote was to "I Want Candy," by rapper Aaron Carter, for a girl he liked in kindergarten.
"I changed the name of the girl from 'Candy' to Brittany because I was dating this girl named Brittany Heart," Jones said.
Jones doesn't have plans for the next five years, but he wants to be making music, he said.