Eagles' guard Thomas leads by example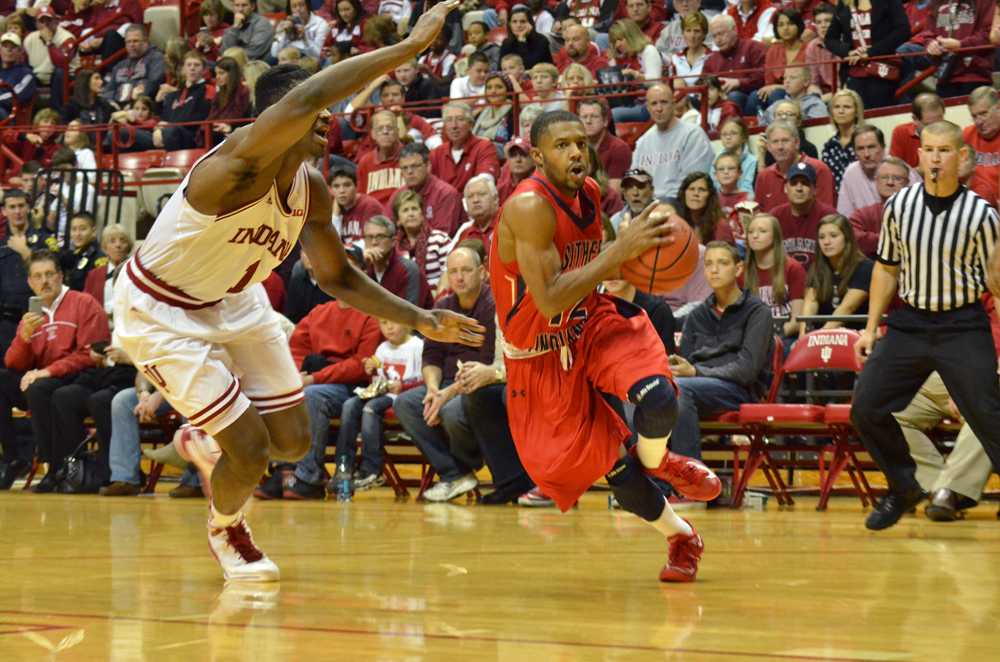 For Southern Indiana senior guard Lawrence Thomas, every passing day is one step closer to the end of his collegiate career. The Springfield, Ill. native knows it, and he is making the most of out his fifth and final season in the USI uniform.
"As a senior, every day is your last something," Thomas said. "Once I look up, the season is going to be over."
Thomas was an incoming freshman before Rodney Watson's first season as the head basketball coach. Thomas is the lone player still active from Watson's first team that went 24-3 in 2009-10. He endured a postseason ban caused by a previous coaching regime.
"I've been around a great group of guys since my freshman year, and every year has been something different," Thomas said. "I'm looking to make another memory with these guys this year."
Watson said Thomas dealt with every challenge directed his way during his time on campus.
"I can't think of another college player who has been through more adversity than Lawrence has been through in his college career," Watson said. "I think that speaks really highly of him, and our team takes on his personality in a lot of respects."
Not only do his teammates take in his personality, but they also value Thomas's leadership gained through dealing with all of the difficult circumstances.
"I think that's the way it works in athletics, you tend to take on the personality of those with experience," Watson said.
Thomas has embraced the leadership role, too.
"I came in when (Coach) came in. I've been here since day one," Thomas said. "Now I'm kind of like another coach now because I have been here for so long."
Thomas has been here longer than any coach on Watson's staff.
"He's got a great deal of experience. In fact, he's been here longer than Coach (Gerad) Good. He signed before Coach Good did," Watson said. "He's been here as long as I've been here."
Thomas said he is simply fulfilling his role with the team, serving as a team veteran to help the transition with younger players from high school to the collegiate level. This was a transition he dealt with four years ago and mastered according to his career numbers accumulated so far as an Eagle.
"It's good to have veterans on your team to teach new guys," Thomas said.
As for the start of his final regular season, Thomas hopes to play every game like it's his last, he said.
"You can't take anything for granted," Thomas said. "You got to go out and leave it all on the court for 40 minutes."
Looking back on his previous four seasons on campus, Thomas appreciates one thing already reflecting back on his time already spent at USI, he said.
"The community has shown a lot of love to me and our basketball team," Thomas said.