IT'S A WIN-LOSE SITUATION: Exhibitions rake in $21,000 in guarantees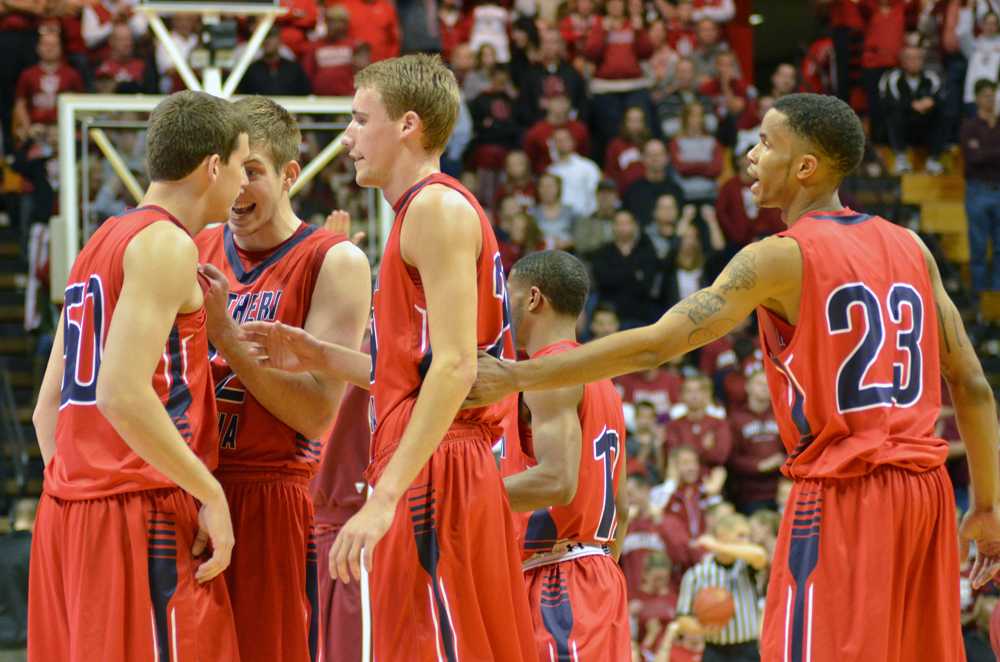 Southern Indiana men's basketball team fell in both of its exhibition games against Indiana and Tennessee, but the Eagles' program made the most of its two trips.
The beneficial qualities of the exhibition contests weren't just noticed on the court, but in the pocketbook as well.
The men's basketball program earned $10,000 in guarantees for each game, agreed upon before the contest by both IU and UT.
"I haven't run the numbers yet in terms of expenses, but for the IU game we took a bus up and came back the same day," USI Athletic Director Jon Mark Hall said. "We basically had meals and transportation in terms of cost."
Making the trip to Knoxville to play the Volunteers was a tad more expensive for the athletic department, with the men's team staying in a hotel the night prior to the game. Still, the Eagles received extra money that will impact their program directly.
"When it comes out, we created revenue in both of those situations," Hall said. "We basically will bring in $20,000 for the basketball program for those two games, taking out expenses for the trip."
Hall said guarantees, or monetary amounts, with each game depends on the opponent hosting. It's then up to the visiting school to accept the guarantee or look elsewhere.
"There are probably some schools that pay a little more than that, and there are definitely some schools that will pay less than that for an exhibition game," Hall said.
The coaching staff for both the men's and women's programs handled scheduling for their respective teams, including exhibition games.
"We allow our coaches to handle their schedules. I'll jump in if I need to be of any help," Hall said. "I'll work with them on the budget side of things."
USI Men's Basketball Head Coach Rodney Watson has been able to utilize connections that he has made through his previous coaching stops, most prominently, Southern Illinois. While at SIU in Carbondale, Watson was an assistant under former Saluki coaches Bruce Weber and Matt Painter, both whom moved on to schools that USI has played in exhibition contests in previous seasons. The Eagles played Illinois in 2010, then coached by Weber, and Purdue the following year, coached by Painter.
Hall said Watson's past connections are key to scheduling exhibition contests against Division I programs.
Watson credits former colleagues in the Gene Keady coaching tree for the Tennessee exhibition game this season.
"My connection with Coach Weber and Coach Painter I think that has paid off for us in the long run," Watson said. "Piece of the action is the financial part, too."
Watson looks for opponents that will help exploit weaknesses that help his team develop before the regular season campaign begins.
"You don't want any 'fool's gold' this time of year," Watson said. "We really want to play people that can help us get better."
Hall said all of the revenue earned by signing guarantees with Division I teams for exhibition games goes directly back into the program. However, other revenue gained through basketball season ticket sales, corporate sponsorships and other streams go into the athletic administration budget.
"So it's good for all of our student athletes to sell more basketball season tickets," Hall said.
The same thing applies to the women's basketball program, who received a $1,000 guarantee to play the University of Evansville at the Ford Center two weeks ago. The program will get to keep close to the full amount with the game being played just down the Lloyd Expressway, bringing limited expenses.
With the exhibition schedule behind both Watson and Women's Basketball Head Coach Rick Stein, focus turns to the regular season. In addition to recruiting, finding exhibition opponents for the upcoming season becomes an important priority. The financial impact is too important for each program to pass up.
"On the men's side we were counting on at least getting one of those games," Hall said. "Getting two was kind of a bonus."
As of now, no exhibition opponents are locked in for upcoming seasons.
"It's not easy or we would have games lined up in the future," Watson said.
USI isn't only on the receiving end of guarantees, they sign guarantees for regular season opponents to come to Evansville to play on campus as well. Hall said the department uses corporate partnerships with local hotels to draw teams who are hoping to limit expenses related to lodging.
"We might pay for one night of their lodging as all or part of their guarantee."
Hall said there is no plan for how the new surplus of revenue will be spent, but communication among the coaches is constant. For the most part, the money will be spent at the program's discretion.