Tennessee runs away from USI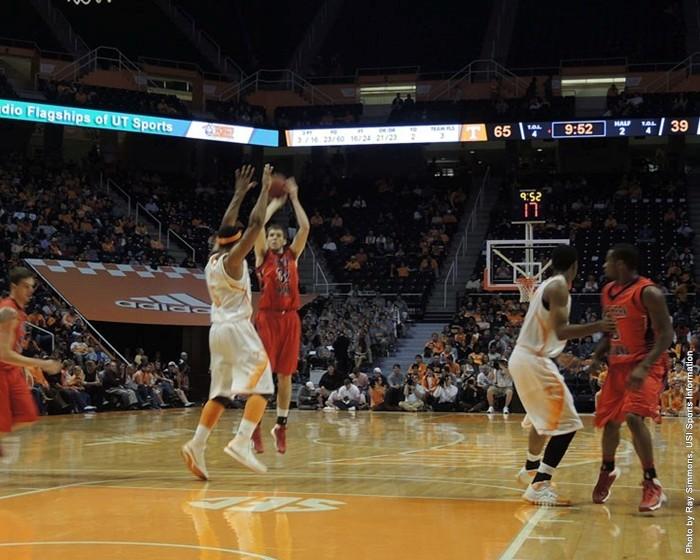 Blown layups and bad turnovers had Southern Indiana in an early 20-5 hole, and Eagles were never able to recover. Tennessee used their fast start to control the game from start to finish as they cruised to 78-47 win at Thompson-Boling Arena in Knoxville in front of 14,034 fans.
USI was led in scoring by senior forward Aaron Nelson, who tallied just nine points on 3-of-9 shooting. Nelson added three more points from the free throw line, going 3-of-4 from the charity stripe.
The Eagles struggled to find the basket early, and the shooting woes only got worse in the second half. USI shot 35 percent from the field in the opening half, missing all three shots from three-point range. The Eagles would add eight more misses from three-point range in the second half to go a combined 0-of-11 for the game.
In addition to the poor shooting, USI turned the ball over 17 times, compared to only five turnovers for the Volunteers. Tennessee had a rough night from three-point line too, shooting just 3-of-21.
USI trailed at the half 40-27, then Tennessee hit 6-of-9 attempts to open the second half on a 14-4 run. The largest lead for the Volunteers was 33 during the second half.
Tennessee had three scorers in double-digits, led by Jordan McRae who had 15 points. Josh Richardson and Jarnell Stokes had 12 and 11 points respectively to round out the double-digit scorers for the Volunteers.
UT opens their regular season on Tuesday when they travel to Cincinnati, the Eagles open up their regular season slate a week later, when they travel to Owensboro to play Kentucky Wesleyan on Nov. 19.
The Eagles open the Physical Activities Center schedule on Nov. 23 in a match up against Lake Erie College.