USI falls to Indiana 83-68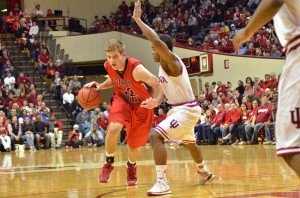 Hoosiers out-score Eagles 23-2 in transition points
Southern Indiana knew the challenges of facing a Division I powerhouse who came into the game as the reigning Big Ten Conference regular-season champion. Add a sellout crowd of 17,472 and a national television audience, and one would assume the Eagles were out of their comfort zone.
USI wasn't phased by the size or speed of Indiana University, though; they went toe-to-toe with the Hoosiers before falling 83-68 Saturday night in Bloomington.
"Nothing but positives came out of it," USI Head Coach Rodney Watson said. "For the first time out in October before Halloween, I couldn't be more pleased with where we are at right now."
In a game that featured three lead changes and two ties, the Eagles were competitive throughout, and at times silenced the capacity crowd at Assembly Hall.
"When Austin (Davis) hit the three on the right wing, there was a little anxiousness with the crimson and cream," Watson said. "With six minutes to go, this thing was really exciting."
The make by Davis brought the Eagles within seven, at 64-57, but that would be as close as USI would get the rest of the way.
Indiana then exploited its speed on USI, as it had for most of the game. As the second half clock ticked through the final minutes, the Eagles had little left in the tank after running the floor with the Hoosiers for a majority of the game.
"What people don't give Indiana enough credit for is how fast they get out in transition," Watson said. "Now it's a matter of where we go from here."
The Eagles were led in scoring by senior forward Aaron Nelson. The Chicago, Ill. native scored 14 points, while bringing down 7 rebounds. Senior forward Taylor Wischmeier registered a double-double with 13 points and 11 rebounds while junior forward/guard Austin Davis contributed 11 points to the Eagles offensive effort.
"It's huge knowing that we could compete with those guys out there," Wischmeier said. "We played really well, but there is a ton of room for improvement."
The improvement might focus on transition points. The Hoosiers were able to outscore USI in transition points 23-2, including being outscored on fast-break points 9-0 in the second half.
Despite the easy scoring opportunities created by transition baskets, USI and Indiana shot nearly identical from the field. The Eagles shot 41.4 percent from the floor compared to the Hoosiers accuracy of 41.8 percent.
"They have a great system, Rodney is an excellent coach," IU Head Coach Tom Crean said. "There is no doubt why they have won so many games."
Sophomore guard Kevin 'Yogi' Ferrell tallied 20 points for Indiana to lead all scorers. Teammates Jeremy Hollowell (13 points), Troy Williams (10 points) and Will Sheehey (10 points) rounded out the scorers in double-digits. Williams also earned a double-double, bringing down 10 rebounds.
Despite the loss, USI showed athleticism and skill, and Crean took notice.
"That's a high level league, I know from my friends in that league that they have their respect," Crean said. "I don't think there is any doubt that they are going to have a great year."