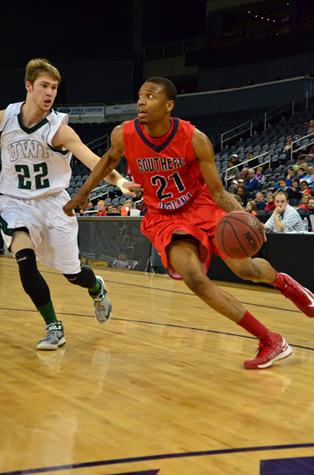 Southern Indiana received bad news last month, when it was announced that senior forward Orlando Rutledge would be ineligible for the fall semester due to academic issues.
The disappointing start to his senior campaign has detoured Rutledge from his goals,but  it's providing extra motivation once he is able to take the court Jan. 3, when the Eagles open Great Lakes Valley Conference (GLVC) play at Rockhurst.
"That's the main reason why I'm focused in the classroom, it's my senior year so I want to come back and make a run for the conference title," Rutledge said. "We have the team to do that."
Last season, Rutledge helped lead the Eagles to the GLVC Tournament Championship game at the Ford Center, averaging 21 points during the tournament. For the season, the Louisville, Ky., native averaged 16.4 points a game, while bringing down six rebounds per contest after spending the previous two seasons at Lakeland Community College. There, Rutledge was an honorable mention NJCAA All-American selection.
Despite being ineligible to participate in game action, Rutledge worked out with his teammates during the off-season and continues to be a vocal leader throughout the Eagles practices in preparation for USI's exhibition opener against Indiana University this Saturday.
"Practice is very beneficial because I get to stay in game shape so when my number is called I'll be ready," Rutledge said.
USI Head Basketball Coach Rodney Watson credits his senior forward for staying the course and refusing to give up on his teammates, despite the difficult circumstances that he will face over the next two months.
"It would have been easier for (him) to say 'I'm out' and go do something different," Watson said. "He knows he has to stand up for something a little bit stronger in the classroom."
Watson said that Rutledge is a prime example of the character that his team embraces, one that never backs down when adverse situations come their way.
"It shows they have some backbone and spine," Watson said. "They aren't going to take flight when something uncomfortable happens."
In the meantime, Rutledge will continue to work to improve both on and off the court in hopes of getting his team over the top when the GLVC Tournament returns to the Ford Center March 2-9.
"All I can do is stay in game shape and finish my school work so I can get back on the court," Rutledge said.