Hackert gains two preseason honors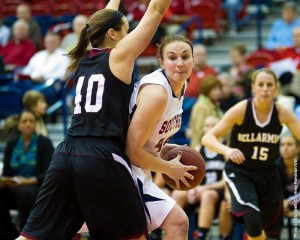 While the first practice for Southern Indiana women's basketball took place on Tuesday, it didn't prevent USI junior forward/center Anna Hackert from picking up her first accolade for the 2013-14 season.
Hackert was selected as a Super 16 Preseason All-American by the Women's Division II Bulletin, in addition to being picked as the preseason Great Lakes Valley Conference (GLVC) Player of the Year.
"It's a nice recognition of what me and my teammates were able to accomplish last year," Hackert said. "It's something that motivates me to work even harder this year and help the team reach the next level."
Last season, Hackert earned first team All-GLVC honors after averaging 14.7 points and 9.6 rebounds per game. Hackert is 364 points and 103 rebounds shy of becoming just the sixth player in school history to reach the 1,000 point and 500 rebound plateau.
Head Coach Rick Stein said Hackert's work ethic made this latest accolade possible, refusing to take a break from the continuous preparation leading up to the start of the regular season on Nov. 9, against Asbury at the Physical Activities Center (PAC) on campus. The Eagles play Evansville in an exhibition game at the Ford Center on Nov. 2.
"Obviously we're proud of her, and to be recognized by the Division II bulletin as a preseason All-American is a huge accomplishment," Stein said. "It really shows (Hackert's) hard work and how it pays off."
Stein credits her high school career at Evansville Memorial (Ind.) for creating a hardworking attitude and mindset when it comes to improving her skills on the court.
"She came in ready to go, she had worked her tail off between her state championship at (Evansville) Memorial and coming here to be ready physically," Stein said. "When she got here, her fitness was good, her strength was good and what it did was it helped her to worry about basketball."
The motivation for Hackert comes from a strong dislike of being on the losing side of the scoreboard at the end of the game.
"I hate losing," Hackert said. "I'll do whatever it takes to not lose."
Stein said Hackert's main focus since she came to campus as a freshman in 2011, has been about being a good teammate.
"The great thing about (Hackert) is she is all about the team. I know she thinks of this as a team accomplishment," Stein said. "She would be the first to give her teammates credit. She's a humble person and is more worried about what our team is doing than what is coming her way."
Fellow junior and forward/center Mary O'Keefe echoed Stein's thoughts.
"She's a great person, and she works hard day-in and day-out," O'Keefe said. "(Hackert) is well deserving of the preseason accolade that she got."
With Hackert already having two years of experience playing college basketball, Stein believes her best basketball has yet to be played, he said.
"She's in line to have a fantastic year. I think her best basketball is still ahead of her," Stein said. "Experience does make a difference, especially in this league."