Q/A with Madeline Kriz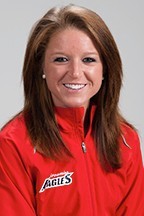 Sophomore Madeline Kriz has already made an impact in her short time on campus. The Danville, Ky. native earned Academic All-GLVC honors in both cross country and outdoor track and field during her freshman campaign in 2012-2013. This fall, Kriz has been a reliable contributor to the Eagles success under Head Coach Mike Hillyard. Recently, she sat down with The Shield to talk about sophomore season on the running course.
The Shield: Easy question first, why USI?
Madeline Kriz: I chose to come to USI because I really wanted to compete at the Division II level, but I wanted to go out of state. So I decided to look around at surrounding states not too far away. I wanted to get out of state and experience life outside of Kentucky.
The Shield: What stood out about campus that caught your attention?
MK: I really liked the campus. It has the perfect size and perfect student population. I didn't want to go too big.
The Shield: Cross country has had a lot of success over the past decade on a national level, is it difficult dealing with all of the pressures?
MK: It has definitely grown and gotten a lot better over the last couple of years. Being a part of this program is really exciting, it's always good every year when you come in and have high expectations because the program is pretty prestigious. It is nice to have high standards to live up to.
The Shield: What impresses you about your teammates?
MK: Everyone is very supportive, everyone on the team works really hard. We have great work ethic – it's always fun. Even though it's hard work, it's always fun to be around the team.
The Shield: Talk a little bit about Head Coach Mike Hillyard, what can you point to as a reason why he has been so successful here at USI?
MK: I think Coach Hillyard has a very personal touch with all of his athletes. He understands that something that works for one athlete may not work for another. He really understands what each athlete needs and knows how to respond and talk with his athletes.
The Shield: Do all of the runners have similar schedules in terms of running, or does it vary by each runner?
MK: Coach has us on a really tight schedule. Everyone's mileage is different on the team, he gives us a goal when the season starts for (how) much he wants to see us run.
The Shield: Do you ever get to take time off from running, or is it a constant thing throughout the year?
MK: It's year round – you're always running. You can't take a lot of time off with running, you have to run consistently. When you come in the fall, everyone is in different places depending on how they trained over the summer, but once we get to the middle of the season everyone starts to even out.
The Shield: What do you want to be remembered for once you graduate from USI?
MK: I would (like) to be remembered for having a positive attitude and being easy to work with. A lot of the girls who I look up to on the team, they have a positive outlook on the team. Everyone on this team is very humble, so I want to be remembered as a good athlete, but also a good person.