Recruiter leads by example for athletes
Pat Hickey
October 4, 2013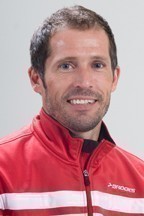 Figuring out the recipe to Mike Hillyard's success is as simple as his recruiting pitch to prospective student-athletes.
Expectations from the 16-time Great Lakes Valley Conference cross country coach of the year are demanding but essential for success in a survival of the fittest world.
"The last thing I tell every recruit is 'you're going to have to love to compete,'" Hillyard said. "I think they come for the structure and stick around for the success and the relationships built during that success."
It's been said that collegiate athletes have to choose two between academics, athletics and a personal life. The decision seems obvious. But carrying it out is not as easy as it sounds.
Not all of Hillyard's runners can immediately adapt to the regimen of "study, run, eat and sleep." For some, it takes time.
Five-time All-American Michael Jordan struggled to keep up his grades early on in his career at USI. Jordan now serves as an assistant to Hillyard while earning his degree in nursing.
"He'll never give up on you," Jordan said. "One of the most important things he would always tell us was that it didn't matter what we did for the three hours of training. What mattered was what we did the other 21 hours. It requires a lot of discipline that not all 18-year-olds are ready to deal with."
Transitioning to such a lifestyle depends on many factors. Most can have a personal life in high school because the training isn't as strenuous. Cross country runners log about 95-miles per week.
For sophomore Johnnie Guy, it also depended on size of the university and familiarity with his surroundings.
Guy originally ran cross country at Purdue, but he transferred to USI after his first semester to join forces with his brother, Josh. The transition has paid dividends for the No.7-ranked Eagles so far, as Guy recently turned in the top overall time at the Spartan Invitational on Sept. 13.
"We're pretty close, so it's cool," Guy said. "It was a little weird not running with him (Josh) when I was at Purdue, so that did play a little bit of a part in me transferring. I think it's cool having your brother on the line with you."
USI will return to action at 8 a.m. on Saturday in Louisville, Ky., for the Greater Louisville Classic.