USI fraternity wins national award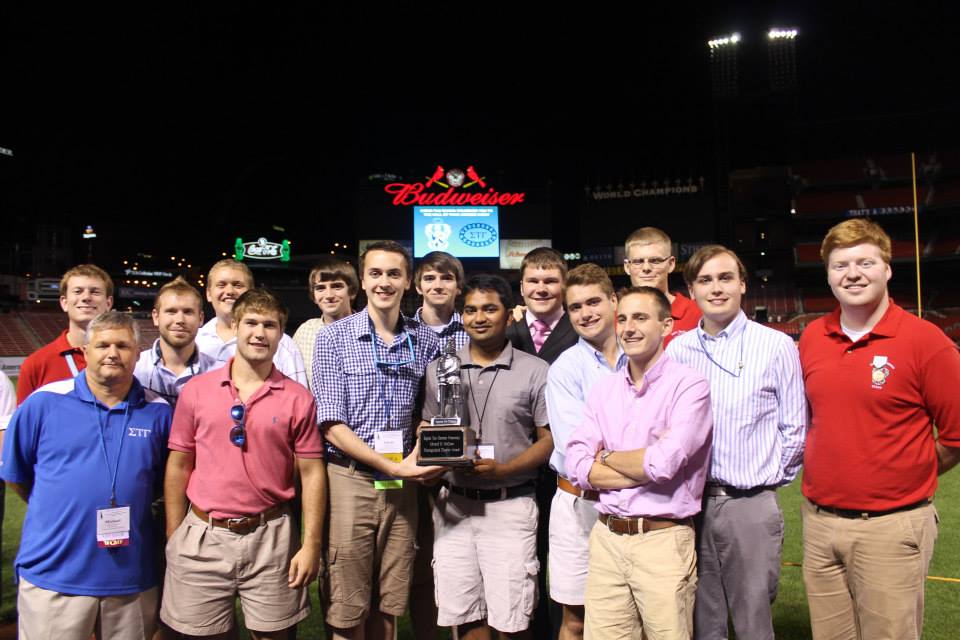 Sigma Tau Gamma was awarded the McCune Distinguished Chapter of the year award Aug. 3 – seven months after the fraternity regained its charter.
"The fact that they went from a colony to being chartered to receiving that award shows that they are a dedicated group," said David Stetter, student development program adviser.
The chapter competed with more than 70 other Sigma Tau Gamma chapters from all over the nation and received the award at the fraternity's Strategic Leadership Conference in St. Louis.
"We knew that we had put in a lot of hard work and that we had a chance to win, but there was a lot of doubt," said Christian Ely, Sigma Tau Gamma vice president. "We thought maybe we'd get runner-up, but we never thought we'd walk away winners."
Ely said "proud" is the best way to describe the moment the chapter's name was called.
"We were proud of all the brothers that were there and proud of all the brothers that couldn't make it," he said. "It was an effort by everybody."
Ely said Sigma Tau Gamma wouldn't be where it is today without the support of the university, other clubs and organizations and their alumni.
"We couldn't have made it this far if it was just us," he said.
Ely said most chapters focus on chartering with a long-term goal of winning the McCune.
"That's one of the things that made it more exciting for us – seven months after chartering, we won chapter of the year," he said. "The national headquarters' staff said that's just something that's not common at all."
Ely was responsible for compiling the McCune packet, which had to include a year's worth of data and proof that each piece of data was correct.
"It was a very tedious process," he said.
The award is based on the McCune Metric System, which the staff at the national headquarters takes seriously when granting the award.
They look at a variety of factors, such as a chapter's budget, overall grade point average, retention rate, philanthropic endeavors, fundraising events and community service.
"If you can think of something an organization might have to show, we had to show it," Ely said.
Sigma Tau Gamma received its charter Jan. 4, two years after returning to USI as a provisional chapter and 12 years after the chapter's alumni decided to close its doors.
A hazing incident in the spring of 1996 led to the chapter being placed on probation for four years.
Sigma Tau Gamma fundraising chairman Zack Mathis said when expansion counselors came to USI in 2010, they had heard a little bit about the chapter's history and looked for people who would start the chapter and keep it going in the right direction.
"They made sure we wouldn't fall back into old habits," Mathis said.
Despite more than a decade of rumors and modern myths surrounding Sigma Tau Gamma, Ely said it all comes down to values-based recruitment.
"When we look for guys to join our fraternity, it's ones that embody leadership and integrity and excellence," he said. "We're not the same Sig Tau that was here 14 years ago."