Eagles finalize men's basketball schedule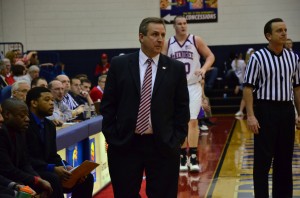 Southern Indiana released its 2013-2014 men's basketball schedule last week, featuring 26 regular-season games including two match-ups with Kentucky Wesleyan in the non-conference slate, along with a neutral-site contest against Virginia Union and highly regarded NAIA opponent Indiana University-Southeast coming to campus.
The Eagles exhibition schedule features two games, with USI traveling to Indiana (Oct. 26) and Tennessee (Nov. 7) before opening the regular-season at KWC on Nov. 19 and returns to USI Dec. 21, for the first time since leaving the Great Lakes Valley Conference (GLVC) over the summer.
"We are against the fire right away," senior guard Lawrence Thomas said. "It's good for us."
The Eagles will open its home schedule on Nov. 23, against Lake Erie.
"Win or lose these games—even though we want to win—we are going to learn something from these games," he said.
Eagles Head Coach Rodney Watson echoed those thoughts.
"The exhibition games serve a lot of purpose," Watson said. "It helps us stay focused on our preparation in September."
Watson said preparing for quality teams like Indiana and Tennessee during the exhibition season will help in the development of his team before GLVC play begins Jan. 3, at Rockhurst.
"If you are preparing to play IU and Tennessee, it only helps in getting ready to play," Watson said.
Indiana won the Big Ten regular-season title a year ago under Head Coach Tom Crean, who enters his sixth season in Bloomington. The Hoosiers went 29-7 in 2013 and reached the NCAA Division I Regional Semifinals before being ousted by Syracuse.
USI senior forward Taylor Wischmeier grew up in Brownstown, Ind., forty-five minutes away from the Indiana University campus in Bloomington. He relishes the opportunity to play against a team he rooted for as a kid.
"The IU game is a big one for me personally," Wischmeier said. "I've been an IU fan my entire life—it's going to be an honor and a privilege to play against them."
Tennessee went 20-13 last season in Knoxville, and qualified for the National Invitational Tournament under Head Coach Cuonzo Martin in the Southeastern Conference (SEC).
The Eagles will play Indiana for the first time, while making a second trip to play Tennessee. The Volunteers defeated USI 86-78 in 2005, when Tennessee was led by former USI coach Bruce Pearl.
Despite the added difficulty, Wischmeier said he and he teammates have to remain focused throughout practice, leading up to the beginning of the season.
"We can't be in shock," Wischmeier said. "We have to come out and still play our game."
USI last played Big Ten and SEC members in the same season during 2010-2011 campaign, with the Eagles dropping exhibition contests against Illinois (67-76) and Vanderbilt (40-77).