Eagles take GLVC opener against UIS, tie at McKendree
Roberto Campos
September 19, 2013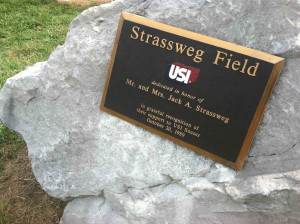 Southern Indiana women's soccer defeated the University of Illinois Springfield 1-0 Friday night at Strassweg Field for its first conference win, while extending its overall record to 3-0-0.
Sophomore forward Madi Vellky scored the winning goal for the Eagles while senior forward Julia Kohnen assisted with the goal with a pass to Vellky.
It was Vellky's second goal of the season.
"Julia (Kohnen) took the ball in, which is the hard part, and passed it to me and then I finished it," Vellky said.
Illinois Springfield's defense contained the Eagles offense throughout most of the game.
"We don't usually play teams that put eight of their players in the back so that's what made it hard for us," Kohnen said. "We just had to find a way to work around (their defense) so that we could score."
It was the third consecutive game where USI won in a shutout.
"The first win in conference is always a good thing, we just have to keep it going," Vellky said. "We definitely can't let it get to our heads."
The Eagles outshot Illinois Springfield 22–5 during the contest. In the previous match against Urbana University, the team scored four goals.
"We played a little slow tonight," USI Head Coach Krissy Engelbrecht said. "Today, I think we were just off a little bit and I think that it just kind of showed in the fact that we reached in a lot and fouled. We play very aggressive–I definitely want us to keep being aggressive as we were."
On Sunday, USI played to a scoreless-tie at McKendree, making the Eagles GLVC record 1-0-1 with an overall record of 3-0-1.
The Eagles are back at Strassweg Field on Friday, when the team will host Missouri S&T at 5 p.m.