Applied Engineering Center opens its doors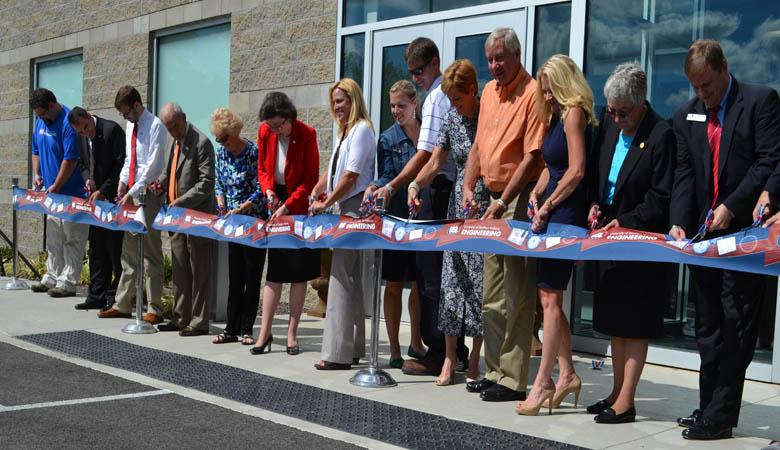 The Applied Engineering Center opened its doors Friday following a ribbon-cutting ceremony for the facility, which features equipment found no where else in the United States.
The 16,226 square-foot manufacturing center is one of only two labs in the entire world equipped with German Festo technology.
A Festo team traveled from Germany and Mexico for the ceremony.
Engineering Department Chair Zane Mitchell said the Applied Engineering Center was first envisioned in 2007 when the Business and Engineering Center was being designed.
"It was clear at that time there would need to be more lab space than would functionally fit in the Business and Engineering Center," he said.
"What was originally thought of was a pole barn," Mitchell said to a chuckling crowd. "And what you see behind me now is pretty far from a pole barn."
He said three consecutive federal grants in 2008, 2009 and 2010 transformed that vision.
"When you get grants totaling over $2.5 million, you can buy a lot of high-tech equipment," Mitchell said. "We've got quite a bit of that, and a pole barn just would have not been appropriate."
The $3.3 million facility includes more than $3 million in high-tech manufacturing and engineering equipment.
"It was really well thought out," he said. "Even the bathrooms make sense."
The bathrooms include showers and lockers for students who might "work up a sweat" walking from campus to the Center, which is located on Bluff Lane near the Support Services Building.
"Students may also need to change, shower, put on overalls to do what they need to do in the labs and then be able to get back to class," Mitchell said.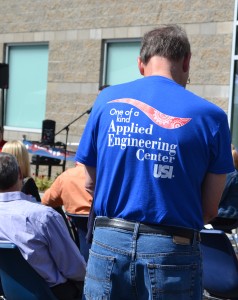 "Our students are going to be able to get a lot more of what our Pott College of Science, Engineering and Education's motto is: Learning by doing," Mitchell said. "They're actually going to get that hands-on learning that they crave before they hit the workforce. They can make those mistakes here in an academic setting and hopefully be able to really hit the ground running."
There are currently 410 students enrolled in the engineering, advanced manufacturing and industrial supervision undergraduate degree programs, while 32 graduate students are enrolled in the industrial management program.
"The Applied Engineering Center has become a reality through the vision and leadership of many people," President Linda Bennett said to the crowd. "This facility will also support a region where a diverse manufacturing base, requiring a trained, highly skilled workforce is critical to the economy."
Members of the USI community, Evansville community, state legislators and Festo representatives made their way inside the Center following the ceremony where students and faculty were available to explain how each piece of equipment worked.
Chelsea Hochstetler had taken her place next to the Wire EDM, which uses an electrical charge to cut metal.
She pointed to the necklace she was wearing to describe what the machine was capable of.
"See the intricate design in this," Hochstetler said. "It already has a finish on it. A lot of machines before they had this one could cut metal, but then they'd have to polish it afterward. With this, it's already polished and everything once you get done."
The sophomore industrial engineering major said it is a great facility.
She had the opportunity check out all of the equipment, she said.
"I'm just excited to get to start using this stuff," she said.