Students decide Salsa Rico's fate
Dennis Marshall
September 10, 2013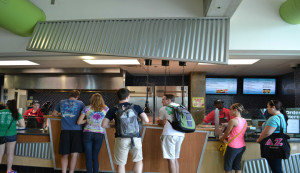 Salsa Rico, the go-to Mexican food spot on campus, will undergo a name change after items, including steak, were removed from its menu.
The change will allow the restaurant to be more flexible about adding new items to the menu.
The university is holding a contest that allows students to decide the new name.  Students can submit their ideas for a new name in a drop box located in University Center East.  The winning student will have $50 deposited into their student account.
"The stuff that was doing really good before hand – we kept that stuff," said Chris Briggs, food services general manager. "The stuff that was doing really bad – we got rid of it. It was just such a large amount that we had to get rid of that it could no longer be a Salsa Rico."
Five or six items were removed from the menu and five more were added or changed, including lowering some of the prices and adding ground beef to the menu.
Sales will be watched closely and items that aren't moving will be dropped from the menu, Briggs said.
"We were getting a lot of requests from our customers that they wanted things changed," he said.  "They wanted ground beef, and lower prices, and things like that and we can't just go and drastically change a brand that's set up a certain way."
SGA President Zack Mathis said steak was eliminated from the menu because it was not cost effective for how many people were ordering it.
Some of the wraps from The Loft may move down to the restaurant once a new name is selected, Mathis said.
He said the new beef is the same, if not better quality, as everything else they offer.
"The full concept of Salsa Rico is changing so much that it doesn't fall under that same umbrella anymore," Mathis said.  "So now they have liberty to change more of the menu."
He said he doesn't think the changes will be a big inconvenience for students, though he's not sure of a time-line.
Sophomore international business major Chassity Black said even though Salsa Rico is not her favorite place to eat on campus, she eats there often.
She said she never tried the steak and doesn't plan on trying the beef.
"I only eat the chicken," Black said.  "And I like the way the name is right now."
She does like the idea of letting the students decide the new name, though, she said. Her suggestion: La Casa Salsa.
"It's nice having a Mexican place on-campus," Black said.  "If I want good Mexican food, I go there."