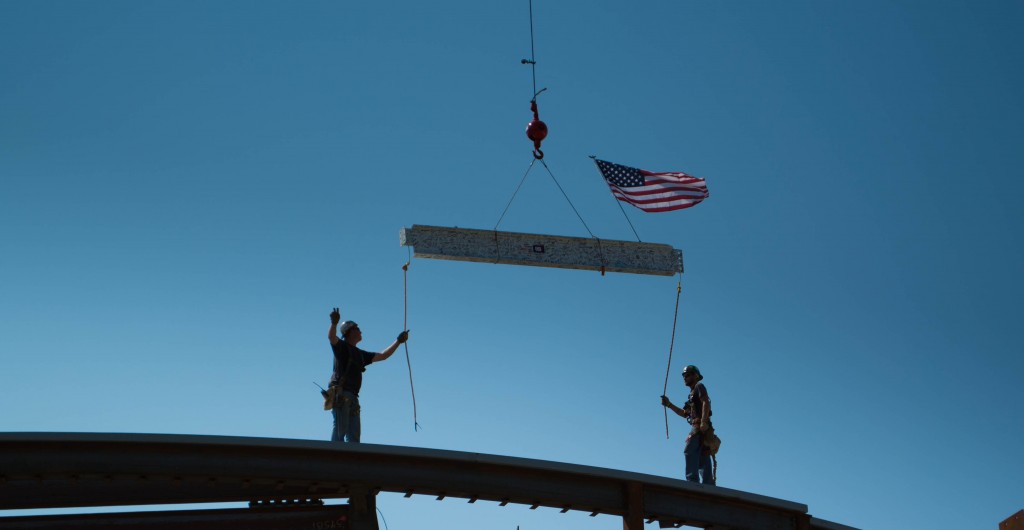 Almost a year after the groundbreaking of the USI Teaching Theatre, the USI community gathered at its skeleton to celebrate the "topping off" of the building as the last steel girder was raised into place Thursday morning.
The $16.7 million project has been underway for a year and will be used for instructional purposes as well as for performances by the USI theatre department.
"It's hard to imagine a little over a year ago we were breaking ground for this theatre, and look at it today, halfway through the construction process," said USI President Linda Bennett. "In fall 2014, we'll be cutting the ribbon for the new theatre."
The white beam was hoisted into the sky, baring the signatures of hundreds of students and the Board of Trustees, before it was delicately placed on top of the steel structure.
Click here for video of the beam being hoisted into place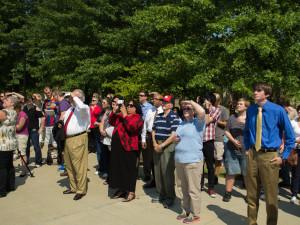 The students in the USI theatre department kicked off the ceremony by performing a short musical number "There's No Business Like Show Business" from the musical "Annie Get Your Gun."
USI Construction Administrator Gary Burgdorf had a small singing part, as well as Bennett, who entertained the crowd with her own solo.
"I ran around the house singing it until my husband was rolling his eyes several times," Bennett joked.
Many people were present for the ceremony including the Board of Trustees, state Sen. Jim Tomes and his wife and members of the various contractors who are working on the theatre.
"The significance of this theatre on our campus cannot be overstated," Bennett said. "I think you can see what a wonderful space it's shaping up to be, but wait until you see it when it's done. It's going to be fabulous. It will be one of our signature buildings. "
USI Board of Trustees Chair Ted Ziemer took the time to thank everyone involved in the planning and the construction of the theatre.
"We're fortunate to have a theatre program at USI that has gained national recognition, and many of you here have supported the program for many, many years," Ziemer said
He said the theatre has been "on the drawing board" for some time, and it was originally the idea of former USI president H. Ray Hoops.
The Indiana General Assembly approved $13 million for the construction of the theatre, with the remainder of the funding coming from private donations.
A unique aspect of the theatre is that it will incorporate aspects of local heritage into its design including: chair legs decorations from Jasper, Ind., limestone from Bedford, Ind. and Toyota dash panels from Princeton, Ind.
Junior theatre major Danielle Scott said the theatre will do a lot to help the theatre students.
"I think it's going to help tremendously. We'll have a bigger variety of shows, since we have more room," Scott said. "I think it will help grow the theatre department very much in a positive way, and it will bring the community and USI as a whole closer together to understand the arts better."