Philosophy professor wins H. Lee Cooper award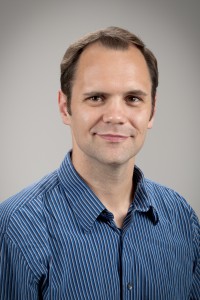 In high school, Garret Merriam had a desire to stimulate people to think for themselves. That desire stemmed from his observation that people tend to accept ideas because they're presented as the way things are.
While attending an intro to philosophy class on his first day of college, Merriam found a way to channel that desire – he could teach.
"After that first hour went by a very distinct thought went through my head, 'I said I could absolutely do this,'" Merriam said. "That philosophy class was everything I hoped it would be, it was interesting and challenging, (my professor) talked about stuff that completely opened my mind."
Merriam, assistant professor of philosophy, is the 2013-2014 winner of the H. Lee Cooper Core Curriculum Teaching Award. The award honors a USI faculty member who teaches in the University Core Curriculum and whose methods are both creative and advance Core goals.
"To be included in the ranks of the previous Cooper Award winners is very gratifying and humbling," Merriam said. "I try to take my teaching very seriously because it matters a lot to me, so it's nice to feel that my efforts are recognized and appreciated."
Merriam is the second professor to win the H. Lee Cooper award in the philosophy department with Mary Lyn Stoll, assistant professor of philosophy, as the 2010-2011 winner of the award.
"The H. Lee Cooper Award is an important award because we are a university focused on teaching," Amie McKibban, previous H. Lee Cooper Award winner and assistant professor of psychology, said. "Having this award really shows that (USI) is dedicated to having good professors and instruction in the classroom."
Humor is a tactic that Merriam relies on in the classroom. He has lectured to other philosophy professors on the usefulness of humor in tandem with teaching philosophy.
"Because philosophy has the reputation of being a subject that is kind of dry, incorporating humor can really facilitate learning on a number of levels," Merriam said. "It is something that can help students come out of their shells and be more relaxed, and there's research that supports it helping with memory and recall."
Marian Yoder, senior psychology major, said Merriam is a passionate teacher that engages his students.
"He is remarkably skilled at arguing all sides of an argument, he made me question what I believe and helped me make informed decisions on important ethical issues," Yoder said. "I'm sure he's done the same for most of his students. Merriam really helps his students thoroughly understand not only different opinions but their own side of arguments."
Each academic year the H. Lee Cooper Award winner gives a presentation for the university community. A date for Merriam's presentation is not set yet.
"I'm blessed to be able to do something that I love and eat every day, which I find to be a combination that is remarkably rare in the world," Merriam said. "I'm incredible grateful for everyone, from students to fellow faculty, to administrators, that allow me to do this because this is exactly where I want to be."