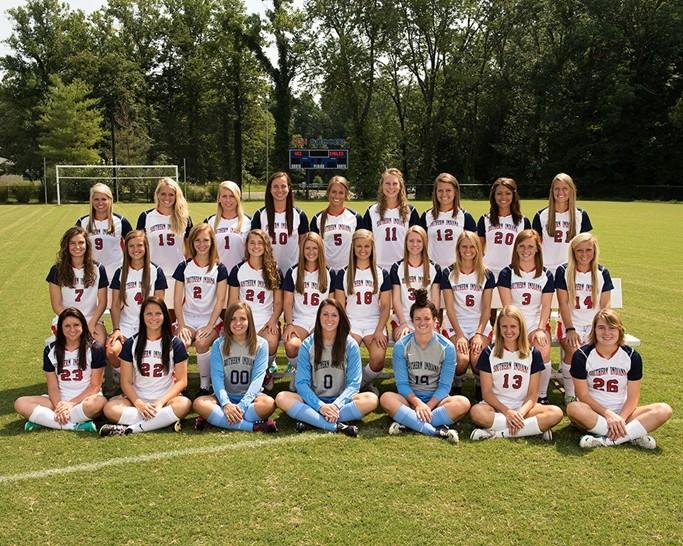 After a 2-1 loss to Murray State University in an exhibition game Aug. 20, USI women's soccer is trying to cope with having such a young team this season.
"I think our biggest weakness is that we're fairly young,"  Head Coach Krissy Engelbrecht said. "We only have two seniors on the team, and we're trying to get the freshmen playing at the speed and level they need to, and that takes a long time."
This season, freshmen and sophomores make up more than half of the team.
Engelbrecht said the women trained extremely hard for exhibition game and scrimmage against Indiana Wesleyan University Aug. 24, to prepare for the season and the competitiveness of the GLVC conference teams.
"I think the biggest thing we did for the scrimmage and the exhibition was train hard," she said. "We did a lot of conditioning to get everyone on the same page."
Despite the youth of the team, Engelbrecht said the women's greatest strength lies in their defense with the goalies and the organization of the team.
"The girls did a good job coming in shape," she said. "The biggest thing was that they worked really, really hard over the summer. And they have to do it on their own because they all live in different places, so it says a great deal that they've stayed disciplined."
While playing Murray State and Indiana Wesleyn has been good practice, she said practicing for scrimmages and exhibition games are different than preparing for regular season games.
"For the preseason, we focus on mixing things up, once we start the regular season, we focus on what we need to do to beat that one team, now what we need to do for the whole season," she said.
The women don't play another game for over a week, which will be against Ohio Dominican University, leaving the team with more time to practice before the first game of the season.
"With the start of school, we're trying to get into the routine, continue to train hard and get better and healthy at the same time and make sure everyone is fresh and ready to go for the first game," she said.