COLUMN: Clodfelter tackles football issues
View from the Cone
The dog days of summer are nearing a completion, and the new school year is now upon us.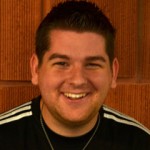 For some, excitement is fueled by catchin g up with friends and former classmates—while for others, athletics and other extra-curricular activities, fuel that energy.
However, in my time as a student, something has been missing. It's a constant void that finds the campus atmosphere lacking something to be desired when the leaves change colors and fall to the ground, leaving students isolated from their school. Welcome Week activities do what they are designed to do—get people engaged, but once those activities end, what keeps students involved? The force that helps kick-start school pride and passion within a school and their athletic teams, in my mind, is NCAA-sanctioned football.
I understand that this column isn't the first attempt to vent frustration about the University of Southern Indiana not having a football program, but through my past experiences visiting friends at other campuses nearby, I've been able to make observations that I feel explains the lack of school spirit displayed at times on this campus.
Football bridges the gap created by summer break. It's a unifying sport that creates atmosphere and school pride from the moment classes begin.
As a student body, what generally excites us about USI athletics? The common answer, rightfully so, is basketball. But how can we show school pride and enthusiasm before basketball practices officially start in October?
USI sponsors five sports during the fall season; volleyball, men's and women's soccer and men's and women's cross-country, and despite efforts by the university to promote those events on social media and other platforms, they are an afterthought to many students, despite each team having successful seasons in recent years.
Tailgating and football go hand-in-hand, and that brings out student involvement and spirit. Just check out the intramural fields in the fall if you don't believe me, especially when flag football is being played. The university can try to replicate that setting with a different sport, but it won't have near the impact as it would had it been scheduled around football.
Of the Great Lakes Valley Conference (GLVC) 16 full-time members, only seven have NCAAsanctioned football. The eighth football playing school in the conference is Kentucky Wesleyan, who left the GLVC as a full-time member after the 2012-13 academic calendar, but will remain a football-only affiliate member until at least 2013 because their new conference does not sponsor the sport.
Of the seven full-time members, five schools are privately funded, with the two public schools being Missouri S&T and Truman State, who replaced Kentucky Wesleyan as a fulltime member starting this year. The GLVC's largest two largest schools based on enrollment, University of Missouri-St. Louis (15,548) and USI (10,540) don't sponsor football, and both are public universities. Meanwhile, William Jewel, a small private school on the outskirts of Kansas City, Missouri can support football with a total enrollment of 1,050.
Why is that? Clearly the universities that sponsor the sport are getting added revenue from different sources since the majority are privately funded. If that added money and revenue wasn't there, football would be an afterthought there like it is here on campus.
Is it going to take a large donation and commitment to athletics by a donor or donors to get the process rolling for sanctioned football? That's very likely, until the university and those in charge see an added effort and campaign, nothing will change. We can complain and moan that USI doesn't have football, but it will take a concentrated and organized effort to get the job done, including giving back to the university long after we have graduated.
Both sides are going to have to make concessions to get football on campus, now it just comes down to who is willing to do it first. Either those in leadership positions begin to allocate money to the sport or graduates start giving back more to show support to expanding athletics on campus. Otherwise, this same topic will be in this paper for years to come. Don't say I didn't warn you.