Campus store offers more than just books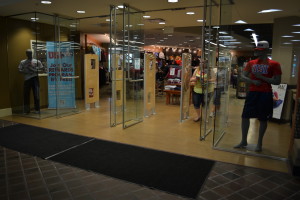 The USI Campus Store, which replaced the USI Bookstore this summer, offers more than just textbooks.
Apple products, including Macs and iPads, can now be found at the Tech Store located inside the Campus Store.
"We're hoping that people will take advantage of the discounts," said Michael Goelzhauser, USI Campus Store manager. "If nothing else, at least the inventory is here on campus. Students don't have to go to the east side or order it online."
Apple products and various software packages are being sold to students at a university rate, which is between 5 and 10 percent off the regular price. Faculty will receive a 10 percent discount on new and used textbooks and 20 percent off apparel, office supplies and gift items.
But Campus Store Technology Associate Cole Collier does more than just help customers choose the best device.
"You get home and you have a brand new computer, and then you don't know what to do with it," Goelzhauser said. "You don't know how to load it. You don't know how to configure it. That's part of the service that we're now providing."
The Campus Store sells clothing apparel, supplies, headphones, batteries, snacks and Coke and Pepsi products, among other things.
"We're more than just books, but when you hear 'USI Bookstore,' the first thing that probably comes to mind is books, books, books and more books. But we have a lot of things," Goelzhauser said.
The name change came following a steady decline in textbook sales.
"Students buy them online, or they buy them in digital format," Goelzhauser said. "The industry is just not as big as it was 10 or 15 years ago."
The remodel has been a long time coming. Nearly 10 years ago, a group of bookstore consultants visited and offered their advice on how to increase traffic and sells.
A couple years later, Goelzhauser asked the same consultants to visit a second time, and again, they said the bookstore needed to be remodeled.
It was finally approved three years ago.
"Everything takes time, and of course, there are budgets," Goelzhauser said. "You don't always get money when you want money."
The two-phase project cost the university $700,000, said Mark Rozewski, vice president for finance and administration. The first phase was completed last year, but the majority of the change took place this summer.
"We totally gutted the Bookstore," Goelzhauser said. "All new fixtures; everything was brand new. We were stuck in the 90s, so we got rid of everything. It was time for us to move into the 2000s."
With the help of R. Berlin and Associates Retail Design and Planning of Detroit, the new store came together piece by piece, he said.
"We took the same square-footage and better utilized it," Goelzhauser said.
Aside from specifics, store staff had very little input on the design. There was no student input at all.
There was no increase in the amount of full time store personnel or student workers.
A new program was introduced this semester that will allow students who are enrolled in university courses to purchase up to $1,000 worth of merchandise, excluding Apple products.
"We're hoping to be a convenience for the students," Goelzhauser said.
Apple products are not included because most are $1,000 or more, he said.
Apple didn't want the university to advertise an Apple store because it is not an Apple store, Goelzhauser said. The USI Campus Store is an authorized reseller of apple products.
While it's too early to tell whether or not sells have gone up, Goelzhauser said what he's hearing from people who enter the new store for the first time is a good indication sells will increase.
Senior business administration and management major Adam Brothers compared the Campus Store to an airport gift shop.
"It's beautiful," he said. "It has a real modern look that is more open and spaced."
He also likes the clothing and merchandise displays at the entrance to the store, he said.
"From a marketing standpoint, it makes more sense," Brothers said. "I think it will draw more customers. It's a store we as students can be proud of."