Newly inaugurated Governor Mike Pence visited USI for the first time to talk to a class about higher education, among other topics.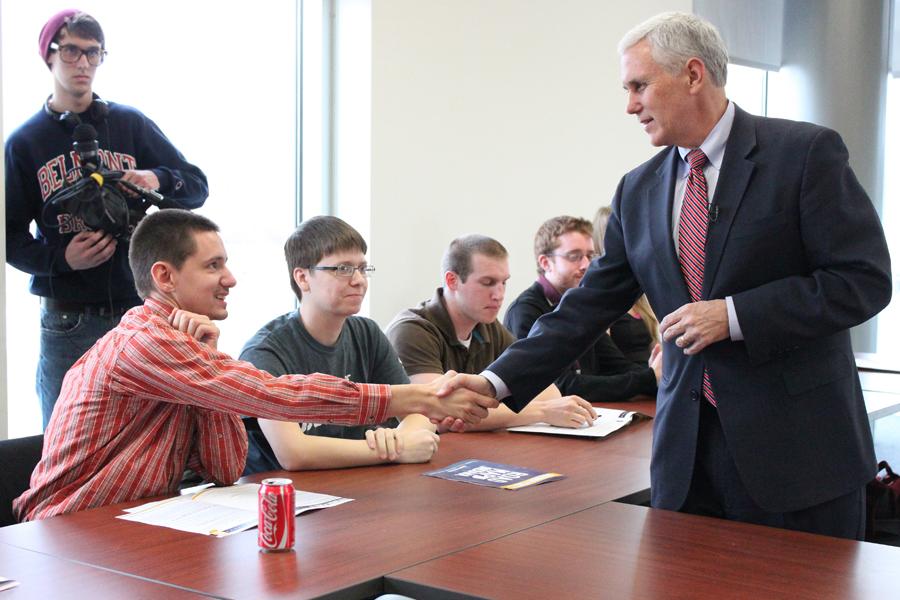 Pence visited a personal selling class and answered questions after meeting privately with President Linda Bennett.
"I was anxious to get down here," Pence said. "I've known of the reputation of USI for some time. It's a tremendous asset for all of Indiana and the Midwest."
He said his Lieutenant Governor Sue Ellspermann, who worked as director of the USI Center for Applied Research, talked about the university all the time.
"(Since) the first day I met her, she's been bragging about USI and asking when I'm going to come down here," Pence said.
Pence also talked about funding for four-year public universities like USI and how he plans to tie in four-year completion rates.
"When I went to college to get a four-year degree … it took four years," Pence said. "Frankly, in Indiana and across the board, 30 percent of students get four-year degrees in four years. I'm not a math professor, but I know five years costs more (money) than four."
USI's four-year graduation rates were 18 percent for students who entered in 2008. Because of the rates, USI is the lowest four-year public residential university in Indiana.
USI receives $4,603 per full-time Indiana student while Indiana State University (ISU) receives $8,156.
"For people that may leave school and come back later, I really do believe that a four-year degree should just take a total of the credit hours of four years," Pence said.
He said he has planned a "roadmap for Indiana" that would give incentives for students who graduated in four-years.
"We want to create incentives for on-time completion," he said. "It could be for a down payment on a car, first month of rent."
Bennett said she didn't directly mention USI's funding situation to Pence, but that he is aware.
"I told him … we are the youngest university," Bennett said. "If you go to most state systems … and look at inequality in funding across the state universities, the youngest universities are receiving the least funding. It's a reality. It's a reality they're trying to change."
She said she thinks he understands.
"He knows what our funding situation is, and he knows that we've already approached the legislature asking for equity funding," Bennett said.
Pence's visit was mainly about getting him acquainted with the university.
"This was an opportunity for him to become familiar with the people of the campus, the campus itself, and to convey the message of what this university means to this region and to the state," Bennett said.