Keyboard lab accomodating new minors
An Electronic Keyboard Lab opened in Fall 2011 to accommodate three new music minors, which were recently approved.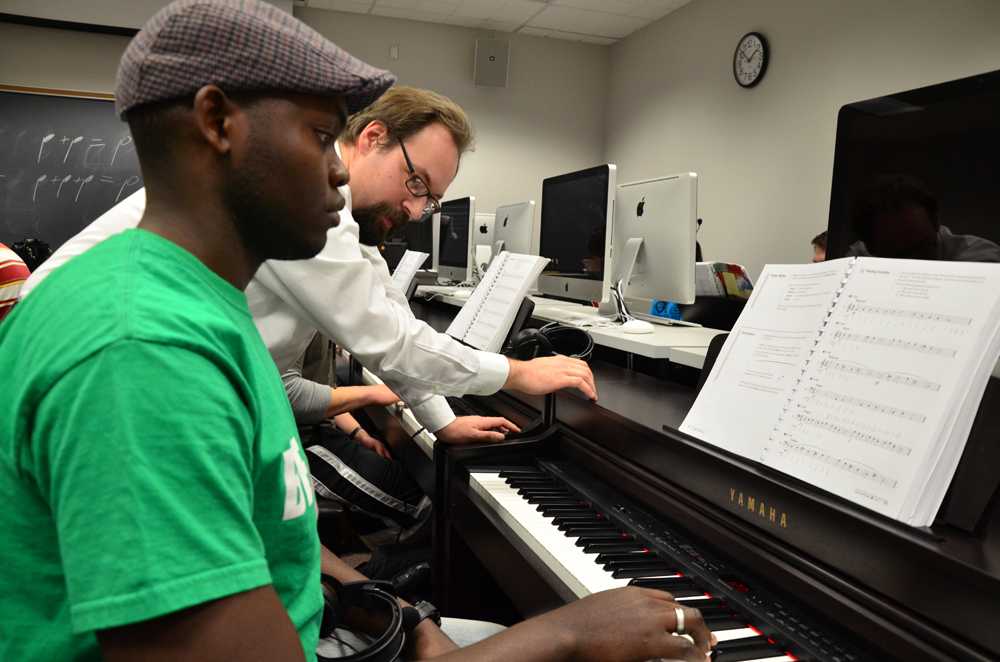 Music Coordinator Daniel Craig said as part of a plan for the minors, the lab was necessary for foundation courses such as Class Piano I and II and Aural Skills.
"Having a piano at your hands and a computer attached to that piano, you can use the computer and piano together to work on music theory exercises," Craig said. "It's also there to allow students the opportunity to come in and learn how to play the piano if they so desire."
The minor will not be listed on the DARS until Spring 2014, but the courses are now available to students hoping to be credited with the minor and students who are interested in specific courses.
"If students who aren't receiving a minor are taking the courses, it's because they love music and they want to expand their knowledge," Craig said.
Notation software is also available in the lab, which allows students to compose music and print it out.
"It is standard for most musicians to know this type of programming," Craig said.
Students must be taking a course in the lab in order to take advantage of it outside the classroom. They only do that as a way to alleviate damage issues, he said.
Freshman Brian Tenbarge is an undecided major who decided to take the class because he writes music on the guitar and thought it would be a good opportunity to add a new sound to his music, he said.
"I've always enjoyed the sound of the keyboard," Tenbarge said. "The sound it creates and the ability to play so many notes in such a small amount of time is unlike any stringed or wind instruments."
He said he likes that each student gets his or her own piano and the fact that there are a small number of students in each class.
The teacher announced a substantial amount of lab hours to students who would like to come in and practice not during class, he said.