New music professor, minors at USI
Three new music minors were approved in December and added to USI's music program on Monday, and a new professor started in the Fall 2012 semester.
Adding minors in general music, applied vocal music and applied vocal education was a three-year process for the music program.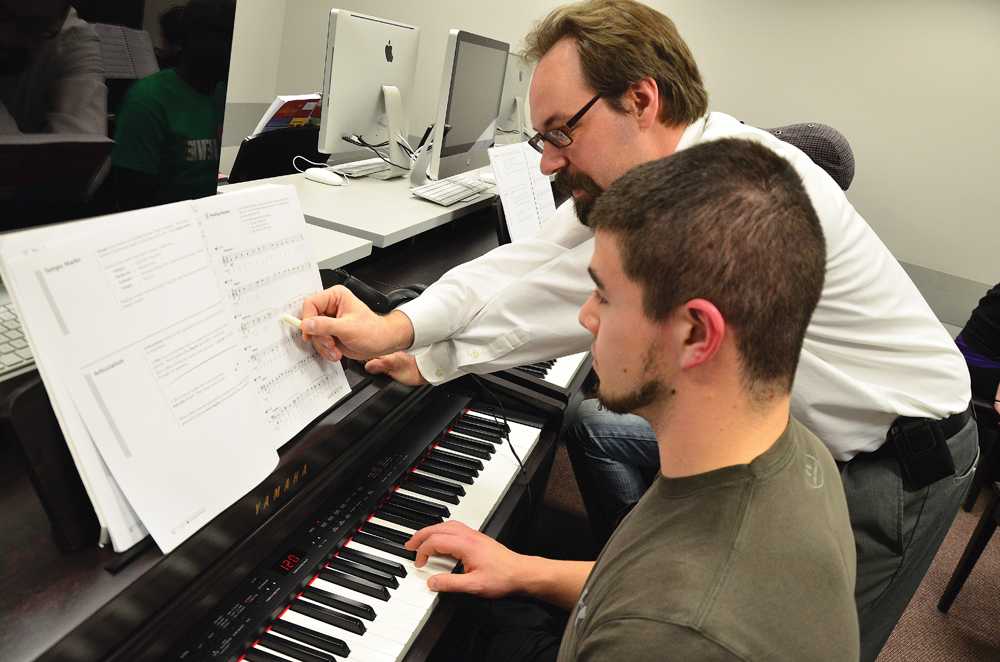 Instructor of music Thomas Drury teaches music theory, aural skills and piano class. Drury said soon he wants to start up jazz appreciation class and hopefully provide private piano lessons.
"I enjoy the hidden treasure feeling that USI has," Drury said. "There are so many students that want to learn more about music."

Drury earned his undergraduate degree from the University of Iowa and his graduate degree from the University of Michigan. In 2004 Drury began playing piano for the choir at USI. Drury heard the music program was interviewing applicants for a music theory class, and he fit the job perfectly, he said.
"My primary goal is for my students to understand and appreciate the value of music," he said.
Chris Howard, radio and TV major, said Drury has an understanding of music, past and present. Howard said he is also passionate about students' learning.
"He challenges students to think for themselves," Howard said. "He gives the students personal attention to make sure he or she knows what is going on."
Howard said Drury makes learning music fun.
"His off-topic rants are my favorite things about his classes," Howard said. "Because of the rants, I looked forward to class and, in turn, learning music. "
Daniel Craig, associate music professor, said he is very excited about having the music minors.
"More classes in music allow students to expand their learning about music," Craig said.
Craig said he plans to see a music major pop up within the next 10 years.
"This is the first step in a lot of growth on campus," he said. "Now is the time to start positioning ourselves into the process of a music major. A music major may be one of the last majors because of the experiences that are involved."