Susan Taylor said if she had the chance to meet Martin Luther King Jr., she would apologize for not keeping his dream alive.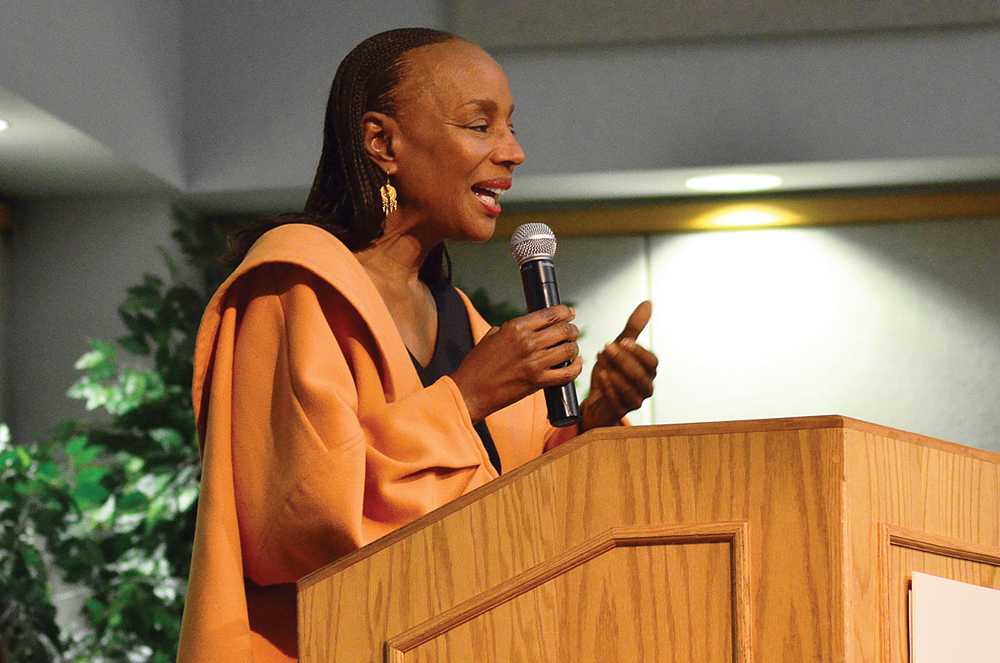 Students and citizens of the community gathered in Carter Hall to celebrate King's birthday during USI's annual memorial luncheon Monday.
"I am so sorry for what my generation has allowed," Taylor said to the crowd. "I'm so sorry that we dropped the baton."
Taylor, the fashion and beauty editor, editor-in-chief and editorial director for Essence magazine, the recipient of the NAACP President's Award for visionary leadership, honorary degree holder and author of four books, was chosen as this year's MLK luncheon speaker.
She spoke about challenges young people face today.
Taylor said 86 percent of black fourth graders are reading below grade level, and the percentage only keeps getting higher.
"Our privilege is not just for us; our education is not just for us," she said. "It's a weapon. It's a weapon that we have to use for social justice. I want to say 'America, the beautiful.' I really do, but we are not."
Taylor founded the National Cares Mentoring Movement in 2006, a campaign which recruits adults to help children in need and get them on their feet.
The movement's goals are to increase high school graduation rates among African American students, end the violence within Black communities and stop the "over incarceration" of young people.
"Mentoring is a low cost, high results way of reshaping lives," Taylor said. "Even with the most challenging people."
Student Government Association (SGA) President Sarah Krampe said there is much to learn from King.
"Dr. King impacted this nation in so many ways during his lifetime,"Krampe said. "But the quality I most admire in Dr. King was his courage to challenge what was unpopular in pursuit of what was right."
She said standing for what one believes in is important.
"To stand up for what is right today, not knowing what the outcome will be, takes an amazing amount of courage," said Krampe.
Black Student Union President Kurtis Kelley said things can always change for the better.
"It doesn't matter what race, I feel like there is a lot of improvements we need to make," Kelley said. "[Taylor's] call to action is really important and hopefully it inspires people to take it up."
Kelley himself tries to make a difference.
"I work at the Boys and Girls club, and we always take volunteers," said Kelley. "Anywhere where you can see that you can make a difference, do it."
Lieutenant Governor of Indiana Sue Ellspermann was in attendance and said everyone can play a role in helping young people.
"We all are responsible," she said "We all can play a role with young people mentoring and making opportunities and helping."
She said America still has progress to make.
"We are not there yet," she said. "We still have a long way to go to make sure every child, every young adult can live to their aspirations and have those opportunities," said Ellspermann. "We need to keep working."
Taylor was the first and only African American woman to be recognized by the Magazine Publishers of America and the first to be inducted into the American Society of Magazine Editors Hall of Fame. Taylor authored for 27 years one of the magazine's most popular columns known as "In the Spirt."
During the luncheon entertainment was provided by Designed by Grace, Zion Missionary Baptist Church Praise Dancers and Children's Center for Dance Educations. Following the key speaker was a performance by Amadeus Percussions.