New faces in new places: Vidal & Hostetler
Daniela Vidal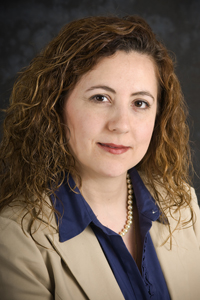 Director of the Center for Applied Research and Economic Development
Degrees: B.S. in Chemical Engineering from Universidad Métropolitana, M.B.A. in Business from USI, currently pursuing a Ph.D. in Industrial Engineering at University of Louisville
Hometown: Caracas, Venezuela
Previous title: Advanced Manufacturing and Industrial Supervision Program Coordinator
Why change: "I just felt it was a perfect fit … with many of the things I do and love and feel passionate about."
Why USI: She's been a part of the USI community for 15 years, since she came here as a student for her M.B.A.
Goals: She said she wants USI to have a prominent role in the I-69 Innovation Corridor and wants USI to be a big part of reinvigorating the manufacturing industry in Southwestern Indiana.
What you should know about her: She received a Phenomenal Woman award in 2011 for her work with the Hospitality and Outreach for Latin Americans (HOLA), an organization she and her husband started 10 years ago.
Marna Hostetler
Director, David L. Rice Library
Degrees: B.A. and Master of Library Science from Indiana University
Hometown: Marion, Indiana
Previous job: Associate Dean of Libraries and Director of Thomas Cooper Library at University of South Carolina
Why change: She said she has wanted to come back to the Midwest since her son was born five years ago. This opportunity opened up, so she applied.
Why USI: "I started looking at the library, and all the great things they do here, and this gorgeous building. I decided to apply and it worked out," she said.
Goals: She would like for the library to be a center for the campus – a place for study and intellectual exchange. She would also like to expand the browsing/popular reading section, as well as the DVD collection, she said.
Favorite books: Harry Potter series
What could be changing: Starbucks lids no longer outlawed, even more hours during finals week, and an expanded rewards program for logging study time