Red triangles reading "Get the Edge" covered Carter Hall Tuesday afternoon at an event that unveiled USI's new marketing campaign.
"Because of you, this university has the edge," said USI President Linda Bennett at the event. "At USI, students get the competitive edge to continue their education or get them into the job market – engaging them in real world experiences and preparing them to be leaders."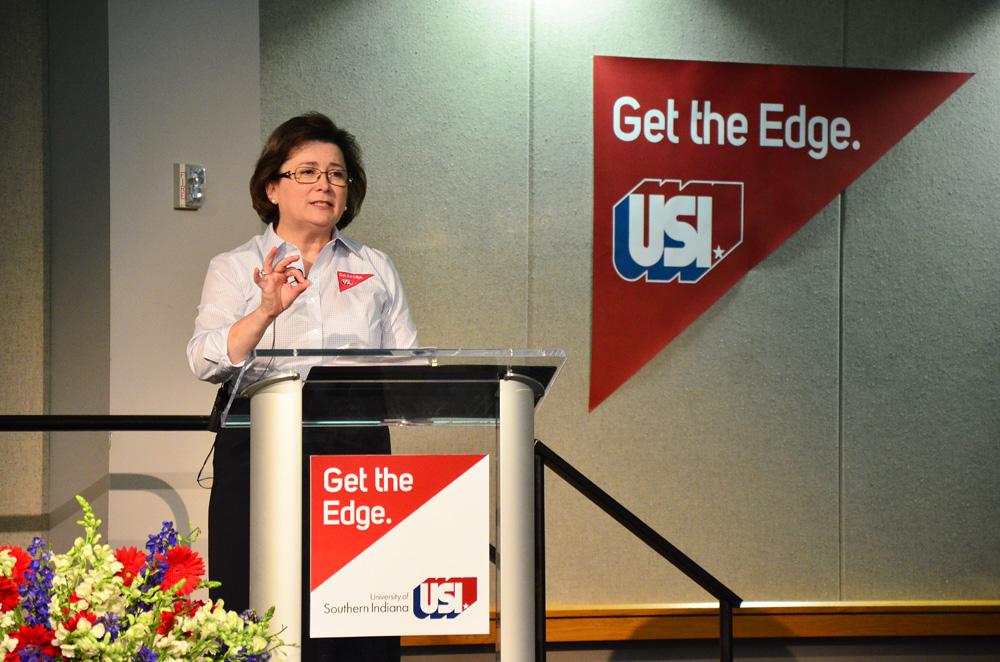 She said she has heard from students and others that they "don't see much of USI" in the community, which is part of the reason this campaign was launched.
She said there will be advertisements on the radio and television and on banners on the boulevard.
---
"Our alumni are 32,000 strong, and its time to flex that muscle," she said.
Mayor Lloyd Winnicke attended the unveiling and talked about how USI's "edge" contributes to the city of Evansville.
"I got the edge, and I know my family did when my sister delivered a commencement speech," he said. "I'm very pleased by (USI's new look). I think it's going to help the university get a higher profile. I think it helps get its story to a broader audience."
He said USI is one of Evansville's greatest partners.
"We depend on it because we know the students who come out of here are qualified people that come in to the workforce," he said. "We know its coming out with the edge they need to succeed in their lives and help our city succeed. "
USI junior marketing major Matt Rust spoke at the event about how USI helped him grow as a student.
"You can see (USI) is really trying to help students get the edge," he said. "I think USI is working very hard when it comes to preparing students for the future, graduation, and they're definitely trying to help us gain the edge."
He said the faculty are dedicated to helping students do well.
"It just amazes me the amount of resources and info that's provided by simply asking," he said. "I think that's a real testament to how dedicated USI and its faculty are to helping students succeed. "