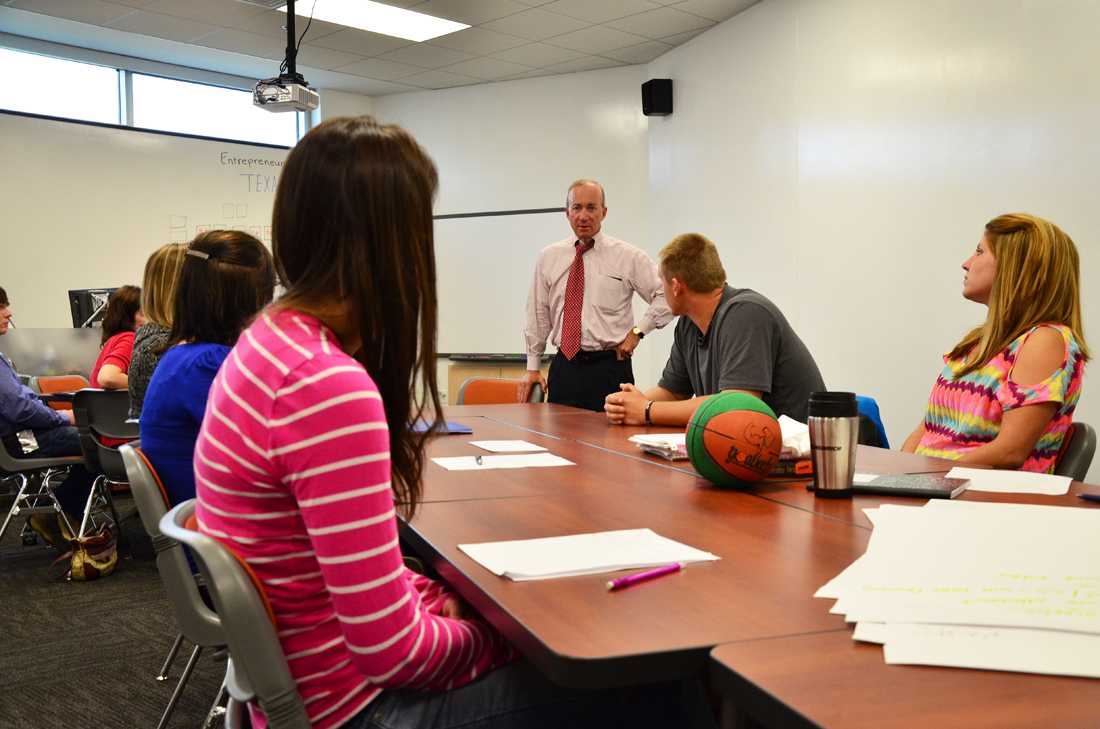 While Indiana Gov. Mitch Daniels was in Evansville to speak at the Southwest Indiana Chamber of Commerce dinner, he swung by USI to speak to a small entrepreneurship class Friday afternoon in the Business and Engineering Center.
Daniels focused his speech on the importance of innovation and how jobs have increased since he became governor eight years ago. He also took questions from students.
"I'm going to tell you that the area you are showing an interest in, to me, is one of the most noble and moral of purposes you can put your life to," Daniels said to the students. "What you're studying to do, what you're hoping to do, what I really hope many of you will succeed at doing, is a big deal, a really big deal to economics and the future of this state and country, and it's as noble an undertaking as you can take in life."
He discussed how it is important to eradicate roadblocks for new businesses.
"(The job of a governor) is to create more opportunity, a climate of opportunity, for the long-term future of this state so Indiana becomes a place of promise and prosperity," he said.
Thomas Brinson, a senior business management major and a student in the class, said seeing Daniels speak was a great experience.
"He kind of offered a different perspective from someone who not only knows the business side and has led corporations, but actually is the governor and knows stuff from that level, too," he said.
Brinson, who said he hopes to own a business someday, said Daniels interested him when he discussed the importance of cutting the "red tape" so people can start up businesses quickly and efficiently.
Brinson said it was good to hear that Indiana is growing and will hopefully continue to grow in the future.
"We're trying to set ourselves apart and not be one of those 'middle of the pack' states," he said.
Bryan Bourdeau, the teacher of the entrepreneurship class, said it was a great opportunity for the students and lit the spark of inspiration for them.
"It's a great opportunity whenever someone of the governor's caliber comes and visit us and shows dedication to universities and education," he said.