USI's three sororities – Alpha Sigma Alpha, Delta Zeta and Gamma Phi Beta – formally accepted 121 new members during their acceptance ceremonies Monday night in Carter Hall. Sororities on campus now boast a total of 301 women, making up 5.3% of the student body.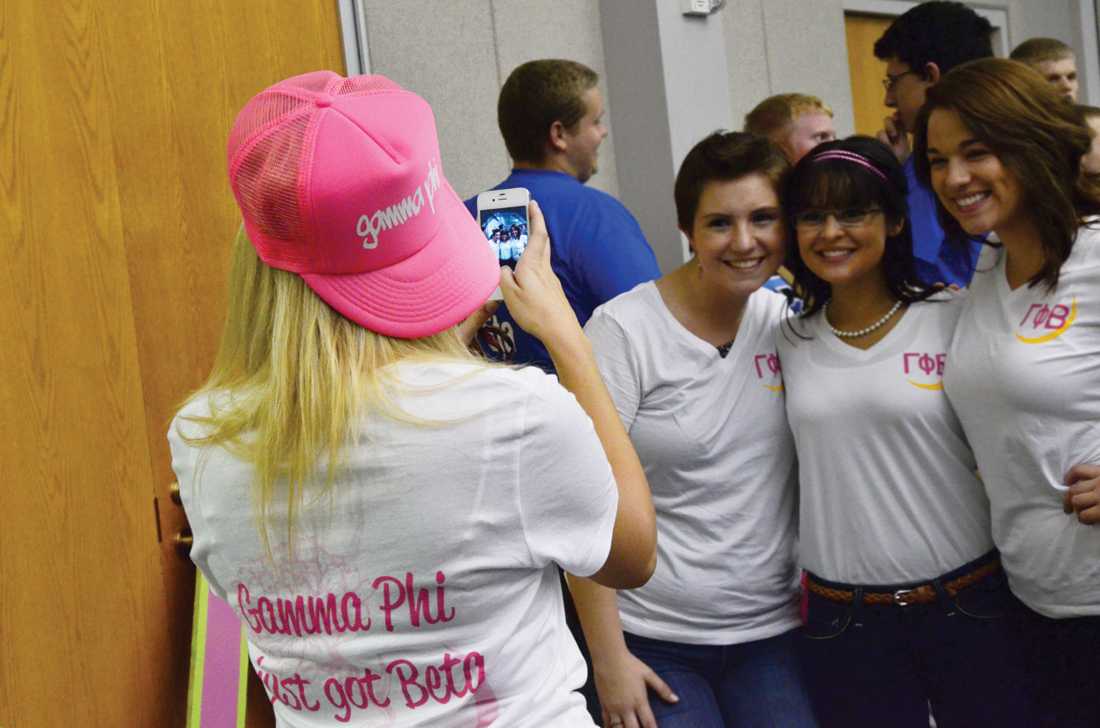 "It's really incredible how (Gamma Phi Beta sorority) has grown… It's gotten better and better every year," Gamma Phi Beta president Aurelia Vanderkolk said.
The night was very emotional for the new members, as many were screaming, crying, jumping up and down and hugging one another.
"It feels like the best night of my life," new Alpha Sigma Alpha member Kristen Cameron said as she wiped a tear from her eye.
Cameron said she joined the sorority because she wants to help people.
"I hope to experience sisterhood," new Delta Zeta member Alex Malhotra said.
Malhotra said she was excited about the evening.
The chapter leaders were also caught up in the emotion.
"I've been happy all day long," Vice President of Recruitment for Alpha Sigma Alpha [NAME??] said.
This fall is her second year being vice president of recruitment, and she said it has made her a better person.
In addition to the new members, Rho Sigmas, or recruitment counselors, were welcomed back into their home sororities. Rho Sigmas temporarily renounce their sisterhood in order to offer perspective members an unbiased opinion on each of the sororities.
Rho Sigmas disafiliate for five months, meaning they cannot wear their letters out in public and they cannot be seen by potential members with more than two sorority women. Starting Aug. 1, they cannot have contact with any sorority women besides other Rho Sigmas.
Many members of the sororities held signs that said things such as "Welcome back, Little" and "I Missed My Big" in order to show their excitement for the returning Rho Sigmas.
This was the first year that members of USI's fraternities were allowed to attend the event, showing their support for the sororities.
The addition of the fraternity members represented a strengthening of USI's Greek community.
"It's not just fraternities and sororities," said David Stetter, program advisor for fraternity and sorority life.
Monday night was not the end of sorority recruitment at USI. Alpha Sigma Tau will start recruitment this week as a part of USI's Sorority Extension Effort. The sorority currently has seven staff members from the national organization on campus with hopes of accepting 75 new sisters.
The Sorority Extension Effort will also be welcoming Sigma Sigma Sigma to USI's campus in 2014.