H. Ray Hoops bust unveiled
Jessie Hellmann
November 17, 2011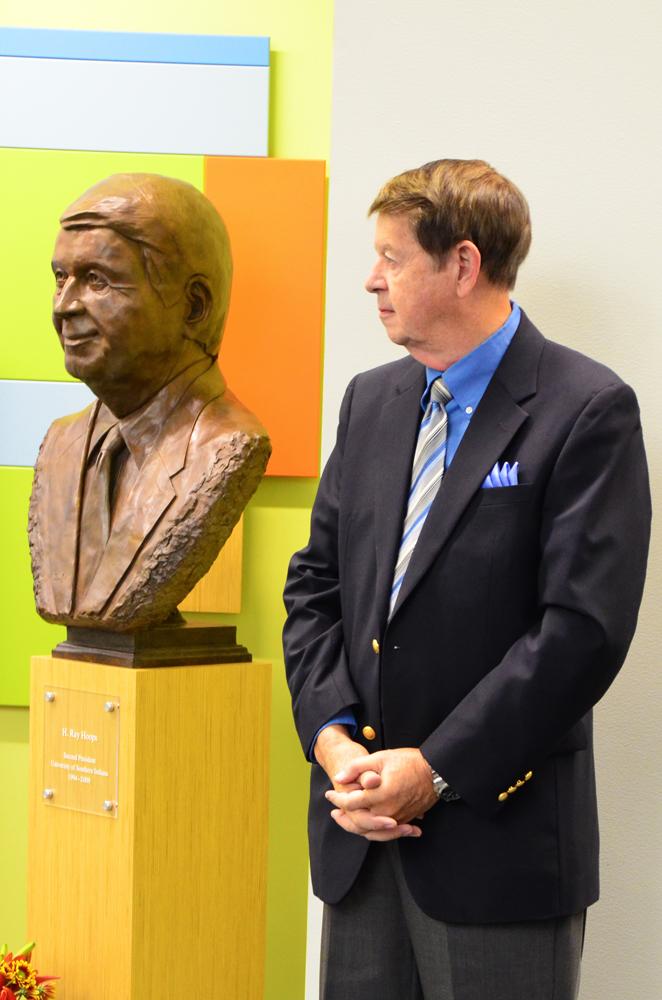 Former USI President H. Ray Hoops stood next to a bust of himself today in the Business and Engineering Center.
Hoops and Board of Trustees chairman John Dunn unveiled the bust of Hoops, created by local artist Don Engle, Thursday while faculty, administrators, trustees and former USI president David Rice watched.
Board of Trustee member Ted Ziegler Jr. said Hoops' 15 years as president were remarkable.
"Several facilities were designed and built during Dr. Hoops 15 years as president," Ziegler said. "Including the Liberal Arts Center, four residents halls, the Recreation and Fitness Center, the Education Center, the Science Center, The David L. Rice Library, the Business and Engineering Center and the expansion of University Center East."
Hoops served as president from 1994 to 2009
Ziegler said the bust was placed in the Business and Engineering Center because of Hoops' involvement in bringing the engineering program to the campus, and because of his leadership in making the Business and Engineering Center a reality.
"I consider it a huge privledge to have been able to preside over this institution all these years, well direceted by my wife, Linda," Hoops said.
"This is an institution that has been absolutely dedicated… to the development of this region," Hoops said. "And I think the region has seen that and has supported the university in return."