Building homelessness awareness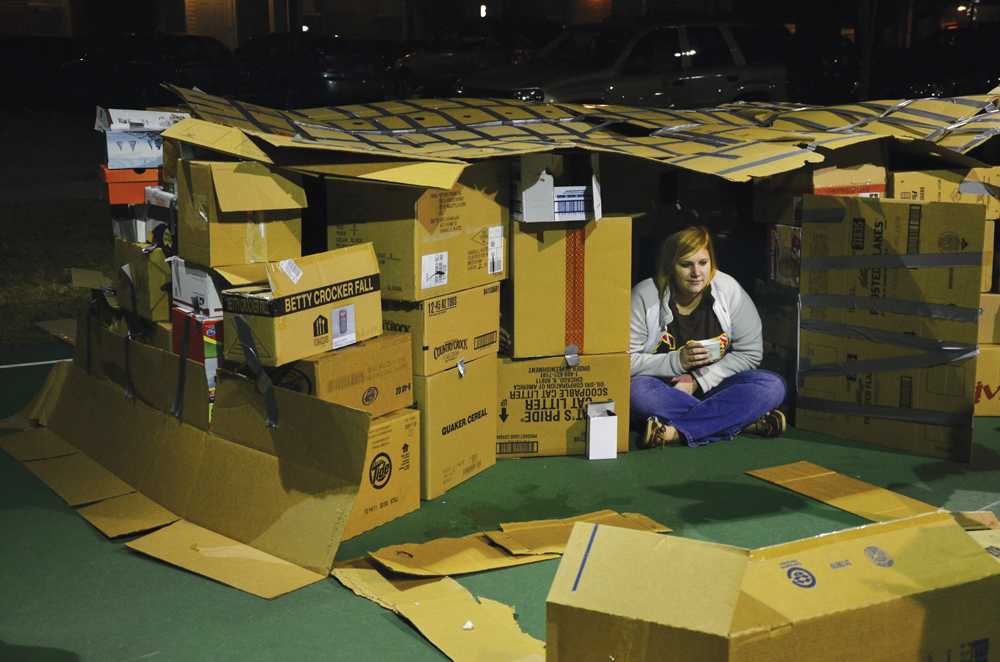 Marian Yoder grew up in a small Amish town without homeless people. 

Yet, she spent her Monday night with her fellow Secular Student Alliance (SSA) members at Boxville, an event sponsored by the Student Housing Association (SHA) intended to bring awareness to homelessness.



 

"I feel really strongly about homelessness in general, I want to do all that I can to help," said Yoder, junior psychology major and SSA team leader.

"Everyone in the group wanted to do a lot of volunteer work, so this was a good opportunity to get out and help bring awareness to homelessness," Yoder said.

SHA instructed teams to bring boxes to the basketball behind the Eagle Express Convenience Store, while they provided the tape, soup and hot chocolate.

SSA members tried to build a shelter big enough to fit all of their members in. They flattened boxes and weaved them together to make the sides of the shelter, and then had two pillars constructed from boxes standing in the middle. Their goal for the design was to make an igloo shaped shelter.

"It's not just we're going to come and make boxes and fool around and make fun of it," said Katie Webster, SHA president. "That's definitely not what we're doing we're making steps to make sure that respect is given."

All participants were told to bring a canned food item, to be donated to the Evansville Rescue Mission, before they could start building their shelters.

Each team was expected to stay close to their shelter until the event was over to make the event as realistic as possible because people who are homeless don't have the option to go inside or sit in their cars.

"It's supposed to be a little friendly competition," Webster said. "Everyone who participates will get an award. Each year SHA tries to come up with new award names."

This year was the second year for Gamma Phi Beta to participate in Boxville.

"This year we came more prepared with a lot more boxes and a lot more girls," senior communication studies major Aurelia Vanderkolk said.

Vanderkolk referred to their shelter as a complex. The complex had a main house with boxes they stacked waist high. It was equipped with a mailbox and a birdbath both made of boxes. Attached to the complex there was a pool with a diving board made of flat boxes. Connected to the pool and complex was a pool/guest house, and the whole complex was fenced off by cardboard.

"Its important to give back to the USI and Evansville community and being able to raise awareness about homelessness is the least we can do," Vanderkolk said.