'99 percent' protesters take streets of Evansville
Jessie Hellmann
October 16, 2011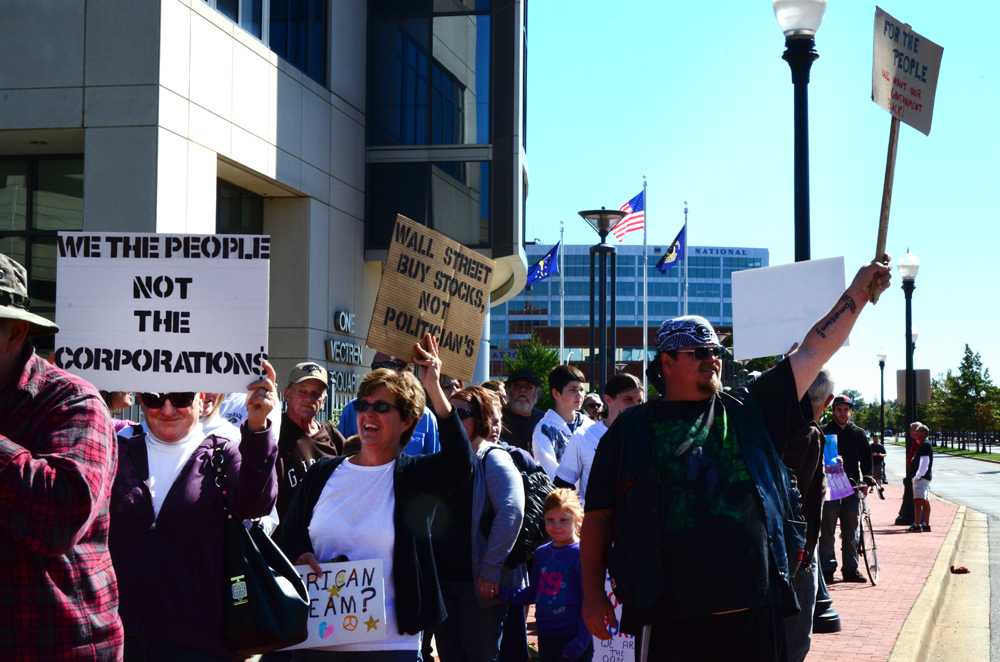 Tom Williams marched down Riverside Drive carrying a sign which read "Financial death or no diploma. Where's our third option?" in downtown Evansville.

 He was one of 150 protesters, including several USI professors, who gathered at the Four Freedoms Monument to begin the first march of Occupy Evansville Saturday afternoon.

"I'm doing this for myself, in addition to everyone else here," Williams said. "I need jaw surgery, and my family can't get insurance for me for that."

Williams studies creative writing at the University of Evansville (UE) as a junior.

"My medical history is quite up in the air, and that's terrifying for me," Williams said. "I know even with that I still have it pretty light, I still have it pretty good. I'm here for everyone who doesn't, for people that wake up everyday feeling like I feel once a month or so."

Wiliams said he plans to protest as much as he can because Occupy Evansville is worth his time.



"I hope first and foremost to let people know that this is a legitimate movement," Williams said. "We're everywhere, we are one. I want people to know that."

Occupy Evansville is just one of several movements to sprout up across the nation, all influenced by the first, and largest occupy movement, Occupy Wall Street, which has drawn thousands of people in New York City. People involved in the movement protest social and economic inequality and corporate greed and call themselves "The 99 percent".

Katie Brown said she as well as other protesters represent the voice of the 99 percent against corporate greed. 

"I think everyone in the 99 percent should have a reason to participate in the movement," Brown said. "We're all a part of it, and we're all not anywhere near where we should be as a society as far as having a right to education and health care. We should all be concerned."

Some Evansville protesters do not plan on protesting through the night, unlike Wall Street protesters.

"I know there are some who are going to try to (stay overnight)," Brown said. "We have been told by the (Evansville Police Department) we will be removed after park hours. We don't encourage anyone to break the law, but there are individuals making that choice to try and stay overnight."

We want our voices to be heard, we want some changes, we want some legislation, we want power back to the people, Brown said.

Some protesters like Nick Joyner, UE psychology major, cluttered the Four Freedom Monuments in support of the oppressed people. 

"I disagree with social and economic inequalities, which is the big reason I think that Wall Street and the top one percent of Americans are abusing the system of capitalism, and it results in the oppression of the poor," Joyner said. "I believe that the scripture of the Old and New testaments call believers in Jesus Christ to stand in solidarity with the oppressed."

Joyner stood with the sun beating on his body draped in a cream-colored Alb. He said he is a student chaplain at Neu Chapel and wears an alb because it is an expression to his faith, and it represents why he takes part in Occupy Evansville.

 "The top 1 percent of Americans are using bailout money from the federal government to line their pockets, while they are throwing people out on the streets from closing up homes," Joyner said.

Occupy Evansville meets for general assembly every day at 6 p.m.