Students, faculty celebrate Constitution Day
Jessie Hellmann
September 16, 2011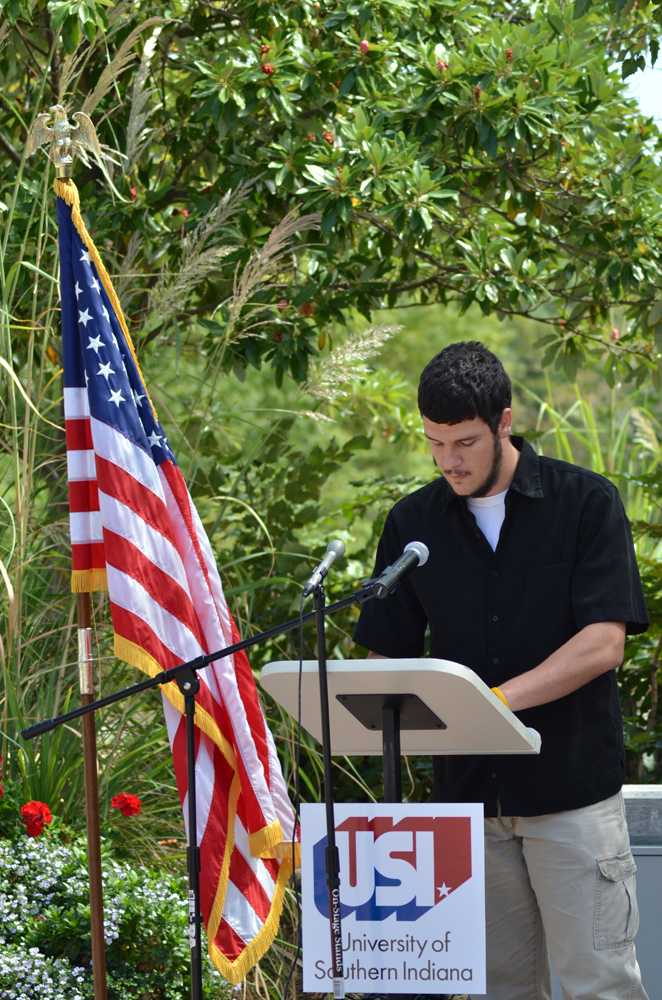 The American flag fluttered in the wind gently behind a group of students and faculty as they publicly read the United States constitution in celebration of Constitution Day this afternoon.
Constitution Day commemorates the formation and signing of the U.S. Constitution on Sept. 17, 1787. The holiday was established in 2004.
The reading took place in the amphitheatre between UC West and UC East. Some of the USI community stumbled upon the reading while walking to class, and some came specifically to see it.
Sophomore engineering major Aaron Williams said he attended the reading because he wanted to show support for his country.
"I believe the constitution is currently losing support among college students, so I wanted to show my support," he said.
He said the constitution is important because it captures the ideals of the republic.
"It's never been tried before our founding fathers attempted it," he said.
He said his favorite part of the constitution is the Bill of Rights because they "secure our rights as humans," and the second amendment means a lot to him because it gives the right to bear arms.
Other students walked by and decided to stay to watch the reading.
This was the case for senior biology major Phil Behrens.
Behrens said he stopped to watch the speakers because he realizes the constitution is what America is built upon, and he believes everyone should support it.
He said he believes the constitution should be important to students so they can knowledgably vote in elections.
"It's important to know if that the (politician) believes the same thing the constitution lays out to what America should be," Behrens said.
Chemistry Associaate Professor Mark Krahling is in charge of organizing the reading every year.
He said this is the second year USI acknowledged constitution day with a public reading.
Krahling said faculty and students read the constitution in its original form because he wanted to reflect how history changed.
Krahling said he would love for more volunteers to participate in the reading next year, and if interested to contact him at (812)464-1712.