Class of '15 makes it 50
Jessie Hellmann
August 23, 2011
Hang on for a minute...we're trying to find some more stories you might like.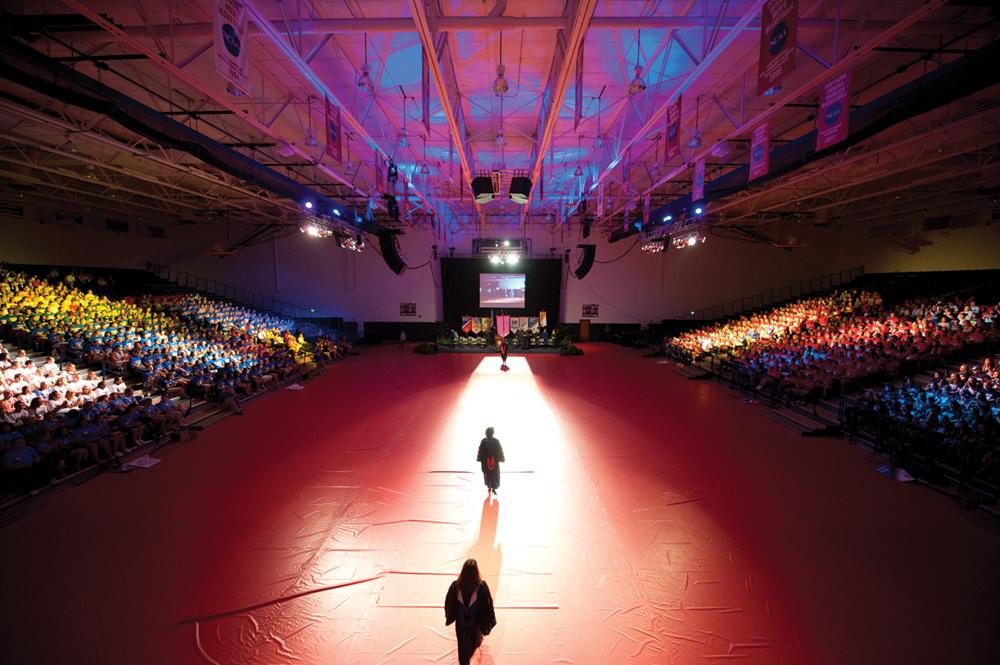 The Physical Activity Center erupted with cries of screaming freshman before during and after the Class of 2015's first class convocation Friday afternoon.
The class of 2015 is a special class because when they graduate, USI will celebrating it's 50th anniversary said President of USI Linda Bennett.
The convocation initiated the incoming freshman to USI. Bennett, Provost Ron Rochon and the deans of the individual colleges all delivered their advice and anecdotes on how to succeed in school.
Bennett greeted the class by reminiscing about her first experience as a college freshman. She said she started her first year of college at the University of Cincinnati during the fall of 1970. There were no encouraging faces around to greet her or help with her first day at classes.
USI is different, she said, at USI students are greeted by student ambassadors and other members of the USI community.
This sentiment is not lost on freshman Biology major Jonathan Stone. He said with all of the people at the convocation, he did not really know what to think of it but he thought Bennett and Rochon adequately described what USI was about.
"I love it (the campus)," Stone said. "It's not too big, it's not too small. Everybody's nice, and you don't really find that in too many places."
Bennett said she remembers being in a room of her fellow classmates, with a professor telling them to look to their left and right, because two of them would be gone by the end of the year.
Bennett passed on this same bit of information to the freshman in the PAC.
"I want you right now to turn and look to the closest three people you're sitting next to," she said. "Make eye contact, this could be deep and meaningful. Two of you will not complete your degree in four years."
Student Government Association President Jordan Whiteledge offered the freshman advice on how to succeed in college. He first said students should find what they are passionate about and pursue it through the many student organizations on campus.
"Second, this is the time in your life when you have the most freedom and the least responsibility," Whiteledge said. "Be curious, be open and be willing to experience new things."
His last piece of advice was to work hard and have fun.
Whiteledge led the class in a new pinning ceremony which is symbolic of welcoming them to the USI family. He had the students attach the pin to a neighbor's shoulder.
New freshman Nichole Head is a psychology major from Bloomington. She participated in the orientation and said she loved how accepting her fellow students were.
"I love how people just got along," she said. "It's the first time a lot of us have met, and it was just so laid-back and casual."