USI students put their 'beer goggles' on
A field of orange cones covered the eastern corner of the quad on Thursday. These cones outlined a golf cart path for the Impaired Driving simulation put on by the Student Government Association (SGA).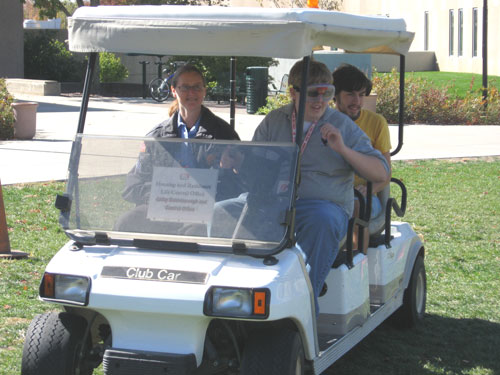 Starting in October, USI has been taking part in National Collegiate Alcohol Awareness Week by hosting numerous free events for students.
This annual impaired driving simulation is just one way the SGA has been trying to promote alcohol awareness and safety.
SGA representative Amanda Landon sumed up the objective of this week for students: "We're not telling students not to drink. Just drink responsibly and be careful, that's more realistic," Landon said.


Leslie Smith, assistant director of the counseling center, was promoting a similar message.
Her message advised potential drinkers to always have a "Designated Dog." This means if a student decides to drink, he or she needs to always have a designated driver or means of getting home safely.
Students taking part in the driving simulation were required to wear a pair of beer goggles that were purchased from an educational resource company called Fatal Vision.
The goggles were specifically designed to simulate what it would be like to see through the eyes of someone with a blood-alcohol content between .12 and .15, well past the legal limit of intoxication.
Assistant Program Director of Student Wellness Christine Tolis made it clear that the drinking goggles were intended to simulate visual impairment only.
"Impaired motor skills is one thing that isn't simulated," Tolis said. "Poor decision making skills are another."
Merely strapping on the goggles almost sent students reeling with dizziness as they tried to make sense of their surroundings. Students then hopped into the electric golf cart and attempted to navigate through the maze of cones.
Some students drove slowly and carefully while others flattened cones indiscriminately as they wove their way to the finish.
One student climbed out of the golf cart after a lap to exclaim, "I did better this year than I did last year."
There were tables set up near the golf cart course offering free cups, shirts, chap stick and information.
The Department of Recreation and Fitness gave away free t-shirts that read, "We choose to live more, and drink less." These t-shirts were paid for by a collaborative federal grant issued to USI, UE, and Ivy Tech for Alcohol Awareness Week.
Overall, there was a positive feeling that the free handouts and impaired driving simulation helped attract students to important information regarding alcohol safety.
The SGA looks forward to continuing the tradition again next year.