Hackert's drive shows on, off court
Roberto Campos
January 30, 2013
Since coming to the Eagles last year, Anna Hackert, no. 44, has left an impact on and off the court.
This year she has recorded four double-doubles and two Great Lakes Valley Conference (GLVC) Player of the Week titles, as well as being the go-to-player offensively and defensively.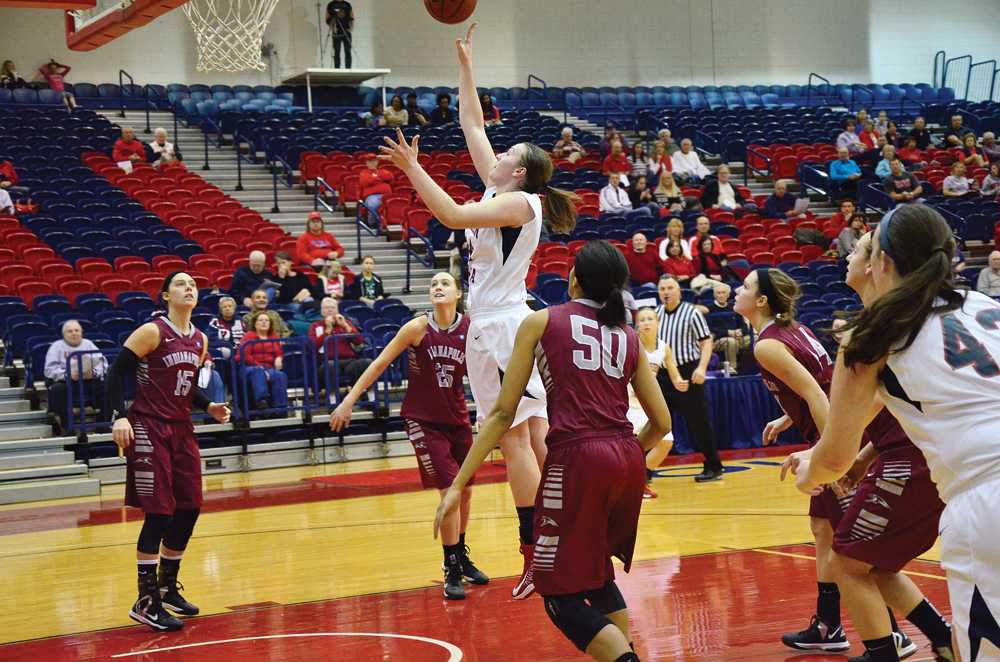 "I think what we've seen through Anna's progression on the team is her really coming into her own," women's basketball coach Rick Stein said.
The Evansville-raised forward/center has been described by teammate Mary O'Keefe as a "leader" on the team and someone who will "encourage you but at the same time will help you out if you need it or if you're doing something wrong."
Stein has also picked up on Hackert's leadership qualities. "For someone like Mary, who is a team leader also and understands the importance of leadership, to describe Anna as a leader tells how her teammates think and look at her as a leader of the team," he said.
Hackert played on a championship team at Memorial High School and went from a winning team to the young Eagles team searching for what it took to have success.
"It was a little bit of an adjustment since I was used to winning and I don't think I've ever had to deal with (losing) before, but I think it was good for me," Hackert said. "It showed me how much harder I needed to work and how much harder our team needed to work to get better."
O'Keefe and Hackert, who played as freshmen together last year, bonded over the position they shared and have turned to each other to deal with struggles.
"We play the same position so we kind of relate to each other – we know what we have to go through so that's created a close bond," O'Keefe said. "We both came in as freshmen and we got along right off the bat, which was surprising because usually two new people don't mesh together that quickly."
A secondary education mathematics teaching major, Hackert has taken her drive for success and applied it to other aspects of her life.
"She is a focused and driven person, whether it is on or off the court," Stein said. "Whether it is her school work or basketball or whatever, I think it's just ingrained in her head. She wants to succeed in whatever it is that she's doing."
Hackert and the Eagles are back in action against conference rival Bellarmine University this Thursday at 5:15 p.m. in the PAC.